You'll reach a point in your marketing strategy planning where you feel zapped of creative ideas to get your practice on the map. Turning to industry blogs and researching competitor events is a good place to start. However, there are a few internal ways to boost innovation, too.
We suggest that you effectively gather ideas from everyone in your practice through an innovation program. These programs use strategic methods to bring out new, possibly out-of-the-box ideas to improve your day-to-day processes or keep up with the changing industry. Keep reading to see how this could apply to you.
Do Innovation Programs Work for Optometry?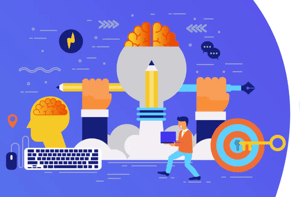 Use Cases
Usually technology companies and large corporations build innovation programs with select employees from every sector or department of their business. These employees brainstorm ideas for new products, new software, events, updates, bug fixes, optimizations, and even employee engagement. However, you can also have focused innovation programs for creating solutions to long-standing problems. In terms of small eyecare practices, it might be a better idea to think about areas where your practice could use some help, such as patient recall or education, and then let your team brainstorm any ideas they have for improvement.
Logistics
The first stages should be deliberately unstructured. You can have your entire staff brainstorm separately onto paper, collaboratively on Google sheets, or together on a whiteboard. The important thing to remember is that no idea is too small or big at this point. Once you've reviewed every idea from every team member, decide together which ones are feasible to do in the short term and then the long term. Leave the rest of the ideas in a folder to revisit at the next innovation meeting.
From there, most companies structure their planning and "research and development" phase. No matter what is being executed, you should assign a leader to the project.
Benefits
Not only does an innovation program solve complicated issues and leverage crowdsourcing, but it bonds your employees with each other as well as the practice. It's key to establish trust with your team. If an idea is successfully approved, your team should feel reasonably confident that it will actually be executed and their contributions recognized. Otherwise, they won't be as keen to support taking time away from their daily work to brainstorm. Incentivizing employees for winning ideas is also a good way to insure active participation.
We hope your innovation program is successful in helping your practice for years to come.
---
Our blog can help you develop more innovative ideas for your practice. Go ahead and subscribe.