With the growth of technology, ODs have many options for accomplishing their daily tasks and improving their patient care. You most likely choose vendors for paper shredding, inventory management, and medical equipment based on a mixture of referrals, online reviews, and impressive demonstrations.
Sometimes we encounter other people in the optometry industry who are filling gaps or revolutionizing everyday processes. In the following blog, we shed some light on a few companies or vendors that we feel are either disrupting the industry, responding quickly to the needs of ODs, or just moving the industry forward.
Industry Players To Keep an Eye On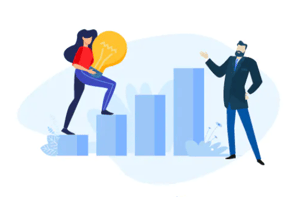 They provide full-suite marketing services from website development, SEO, and managed campaigns. We find them to innovative due to their data-driven, no-contract approach. They even developed a free-to-use video conferencing tool for ODs who want to implement telehealth currently. As a small business owner, you should only partner with companies that keep your best interests and needs in mind.
Especially with the COVID-19 pandemic, contact lenses are becoming increasingly important for patients wearing face masks. CLX systems makes it easy to optimize contact lens fittings and boost orders with patients without requiring multiple practice visits. For years, CLX has been providing the insight and purchasing options that make it more convenient and efficient to boost your capture rate.
With years in the industry under their belt, EyeCarePrime can use their vast knowledge of the optometry experience to build products that ODs truly need. Their patient relationship management tool has a sleek design and includes appointments, scheduling, a chat feature, reviews, and patient outreach for convenient access.
We've discussed the benefits of using EDGEPro to understand the vast amount of data that can help improve your practice. Of course, being able to view a snapshot of your practice's performance is crucial during times of uncertainty and low patient turnout, but GPN goes the extra mile with their Eye Thrive webinar series. Industry experts discuss various business solutions and tactics to to stay competitive.
Especially with the rise of remote care, videos are crucial for any practice today. Not only can patient education videos be used for adding information to diagnoses, but they can also be used in marketing and in-office promotion. As Rendia proves, showing patients the value of certain screenings and tests is more effective through video.
If you've looked into creating an open access practice, you've probably heard of Anagram (formerly knows as Patch). They will work out-of-network claims for you if you want to increase the number of patients you are able to see per month, provided you have the capacity to do so. They also recently rebranded and we are enjoying their fresh, vibrant new look.
Data management is becoming crucial in healthcare with the rise of population and evolving eye health. We think Topcon Harmony is a robust tool to visualize and process comprehensive medical data from multiple devices within the cloud. They make it easier to track trends for each patient as well as view images so that you can deliver a holistic diagnosis quickly.
---
To see an innovative EHR & PM in action, watch this video of a workflow in Uprise.