Each and every day your eyecare practice is faced with challenge after challenge. And, one of the biggest challenges for many practices is competing with cheaper, online (and now brick and mortar) frame retailers, like Warby Parker. We stopped in at a local retailer to scope out the scene and gain a better understanding of what makes these retailers so appealing and the challenges they create for your eyecare practice. Here's what we learned.
4 Challenges in Your Eyecare Practice Caused by Frame Retailers
Challenge: Brick and Mortar Retailers Influencing Millennials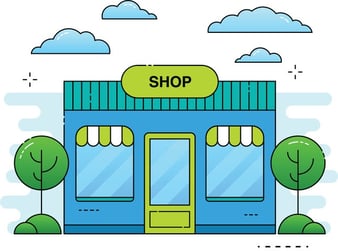 In many areas, frame retailers are able to afford rents in trendy shopping districts that attract millennials. They are able to design their stores to be spacious, modern, and stocked with hip employees that millennials trust to tell them what pair of frames will look good on their face. The experience is in no way clinical in nature and feels like a high-end shopping experience.
Your Solution: Align your practice with today's shoppers and store experience. While you might not be able to justify high rent costs in trendy districts, you can survey your target demographic and find out what is important to them in a shopping experience, and from there design and tailor your dispensary to better meet their wants and needs.
Challenge: Trendy Styles and Swarm Factor
Most people like to shop with friends and be reassured that their purchases are the right decisions, by asking, "Does this look good on me?". But, when shopping in your eyecare practice, most patients come in alone - not with friend support. Also, since these stores are in shopping districts, many people are treating their frame purchase much more like an impulse buy as they walk by the windows.
Your Solution: Be welcoming to walk ins. Create window displays that are inviting and allure people to stop in your shop and take a look at what you have to offer.
Challenge: Simple Pricing
Many stand-alone frame retailers offer simple, easy to understand, all-inclusive pricing on frames and lenses. Oftentimes, the options and decisions of coatings and add-ons can be confusing for a buyer to fully understand and do the math to see what their frames will ultimately cost.
Your Solution: Keep it simple. While it's important to understand what you're paying for, keeping your explanations clear and concise can help simplify your pricing. Giving a frame package option at X price that includes certain lenses and coatings can help interest people and if they have further questions you can break down the included costs.
Challenge: Easy Shopping
With many frame retailers, consumers can pop into the store and quickly pick out a pair of frames, or they can shop online, pick out multiple styles to have shipped to you, try them on, and make a final purchasing decision. they make it easy for whatever type of shopper you may be.
Your Solution: Be adaptable to different types of consumers. Think outside the box and how you can make the shopping experience in your dispensary versatile and appealing to a variety of patient types.
Get more tips on being more profitable in your dispensary with this eBook, 4 Weeks to Bigger Profits in Your Optical Dispensary.