If you're a small independent eyecare practice you are probably already very aware that it can be hard to keep up against online frame companies, and it's easy for your optical dispensary to quickly become a show room for customers who will eventually purchase their frames through an online retailer. When it comes to managing eye care practices, you need to be able to keep up with the competition when it comes to sales! Our friends at The Optical Vision Site recently wrote a post about the options, advantages, and disadvantages of becoming an eyewear affiliate.
Managing Eye Care:
The Pros and Cons of being an Eyewear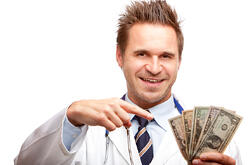 Affiliate
The great online eyewear debate rages on. Have you ever thought about becoming an eyewear affiliate? Affiliates or Associates in Amazon Speak are marketing programs in which you can sell products online via a parent company (Oakley, Frames Direct, Nordstrom, etc.) to generate sales. You do not have to stock and deliver products. People find you via the web and order through the ad you put on your website. You make money based off commission (1-20%) on each sale generated.
So, what are the choices?
You can sign up with a company that has products you want to sell. Amazon, Linkshare, Commission Junction, ShareSales, and more all offer affiliate programs.
Set up your own affiliate program such as Vizio Optics, in Boston. Vizio Optics has a wonderful website to sell online themselves, in addition to offering an affiliate program through Linkshare for a 6% commission.
Sign up with a company such as Iristocracy, who sell products online and refers the fulfillment of the RX to eyecare professionals. You get the sale and hopefully a new patient!
Sign up with yourlens.com, a retail contact lens supplier who sends patients directly to the eye doctor.
Make a new website with sunwear products from various sunglass companies. Keep it separate from your brick and mortar location.
Use companies like Biosyntrx, who offer a joint venture program, making it easy for you to sell nutraceuticals online.
Here's the advantages.
Affiliate programs provide the ads and necessary marketing tools to promote their products.
It will give your office something to talk about and advertise.
Provides SEO and locators.
Can give you products that you normally would not carry or that have minimum orders.
Works for you 24/7.
Low overhead costs.
In the case of creating you own affiliate program (i.e. Vizio Office), you get others to sell for you for a commission.
Increases your reach globally, and opens up doors for new patients.
Relatively easy, as you don't need any special skills.
Allows for target marketing.
Here's what you might not like.
In order to make it work you should blog and promote the products.
Human resources factor.
Can be time consuming.
Tracking results, although this is easier with Google Analytics.
Need to attract affiliates.
What kind of companies sell via affiliates? I think you'd be surprised. Almost every department store, and every designer offers an affiliate program. Many, if not most, all offer eyewear, if they don't get them through a department store.
Designer Brands: Vera Bradley, Vince Camuto, Steve Madden, LaCoste, Lulu Guinness, Milly NY, Toms, Quicksilver, Donna Karan, Wildfox Couture, Diesel
Eyewear Companies: Warby Parker, Wooed by Wood, WoodZee, WeWood, Slydze Eyewear, Pivot Head, Oakley, Rayban, Zenni Optical
Department Stores: Saks, Neimans, Bloomingdales, Nordstrom, Solstice, Sunglass Hut, Top Shop, Modcloth (eyeglass dresses), Zappos
Next time you put that eyeglass dress from Modcloth up on Facebook, you just might be able to make some money. If you have a blog, presenting your products with a fashion accessory via Nordstrom, might being in some incremental income. Just, something to think about.