Marketing an eyecare practice could mean posting on social media, creating promotional videos, starting an email newsletter for your patients, and more. We understand some practices have a strict budget for all marketing efforts and need more affordable campaign ideas.
However, once you've tried a few accessible marketing techniques and have a grasp on what your patients and customers respond well to, you can splash more cash on concentrated marketing campaigns. That's why we've rounded up the top 4 campaigns an optical practice can run to market their services and scale their patient base here for you. Keep reading to see what applies to your practice.
4 Marketing Campaign Ideas for Eyecare Professionals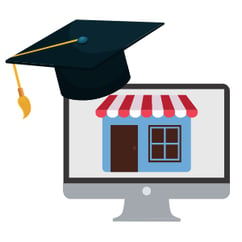 Visual Advertisements
Consistency is key when it comes to running print or digital ads. First, hire a graphic designer to create one visual ad in multiple sizes that are fit for sharing on social media, printing into posters/banners/flyers, or placing in Google/Facebook ads online. This way, if someone sees your ad in multiple places, they're more likely to recognize your brand and remember that they've seen the ad before.
When we say visual ads, we mean use either thought-provoking photos, unique graphics, or catchy copy that sets your practice apart from the run-of-the-mill advertisements. Also, it never hurts to check out what your local competition is doing for some inspiration.
Social Media Giveaway
Although this campaign works best when you have a substantial enough (>500) following, it can also be great when you're trying to grow your social media base. Devise a prize for your giveaway that's desirable and promotes followers to come to your practice, such as a heavily discounted first exam or first purchase. Then, post the giveaway alongside a fun photo on Instagram, Twitter, Facebook, and email it to your existing patients. Require that all entries use your custom hashtag as well as follow you on your social media accounts. This way, you can track all the entries while also spreading the word about your practice. A giveaway is a surefire way to gain followers, create buzz inside and outside of your practice, and jumpstart your social media content.
Videos
Video content is crucial this day and age. A promotional video featuring the interiors of your space, medical equipment, and an introduction to the optometrist can go a long way for building trust with patients before they even visit your practice.
Of course hiring a professional video team to make a 2-minute introduction video for your practice's website is the preferred route. Check the Yelp and Google My Business requirements on duration and size so that your video editor can create multiple snippets. However, practice's on a tight budget can learn the basics of video editing using Wistia's blog, Lynda or even Youtube. Then, use a smartphone, tripod, and a few soft boxes to film a few videos yourself. Although video marketing can be time consuming and expensive initially, it's not something you have to budget for every year. A good video should be relevant for at least 2-3 years.
Email Campaign
When we talk about email campaigns, we are implying multiple emails that are sent to all your existing patients over the course of around 2 weeks. The first email can include important links to your website, social accounts, and a one-question survey on how they feel about your services. This email is meant to welcome patients to your practice under the assumption that they'll visit year over year.
Then, the second email should include nurturing content that promotes your optical dispensary such as blogs about why everyone needs UVA/UVB coating, the perils of ordering frames online, or the benefits of prescription sunglasses. You could also include updates about your staff, practice, or any events in the near future. This is the email where you can showcase your brand voice and build patient loyalty.
Then, if your patients are still opening and engaging with you, the third email can request that they leave you a review on your website, Yelp, Zocdoc, or Google. Don't forget to look at the open rate, click-through rate, bounce rate, and time spent reading your email so that you can make optimizations and edits to the content as necessary.
For even more optical marketing ideas, check our ebook on creating Big Profits with your Small Business.