You've probably noticed that almost every successful eyecare practice has a promotional video that showcases its office, equipment, ODs, and team. Overall, these videos not only help inform patients before they walk through the door, but provide valuable content to share for PR, social media, and other brand recognition efforts.
We want to demystify video marketing for optometrists today by highlighting the top 4 things you need to keep in mind when planning a campaign. Keeping your videos concise, but investing a little bit of time and money into production will help you generate evergreen content.
How to Market Your Eyecare Practice with Video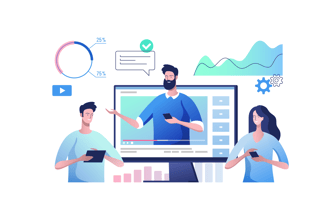 Creating a professional-level video doesn't take too much more than a bit of creativity and a few reliable tools. Most consumers enjoy short and entertaining videos, so make sure the bulk of your time goes into the planning process before hitting record.
1. Decide Your Story
Your video should tell the story of your practice's services, products, and/or people. This eyecare practice video can inspire you to dig deeper into the story you'd like to show. Do you want to focus on how your services contribute to the advancement of eyecare? Maybe you're just creating short, digestible videos about common eye health issues or myths for social media sharing? Or perhaps you want potential patients to get a virtual tour of your office, the frames you sell, and the advanced equipment you use? Choose what feeling or idea you want to convey about your practice and maybe set a goal for how many views or website click-throughs you want the video to generate. This way, you can justify spending more money or time creating the video if you're planning for it to influence your patient growth heavily.
2. Filming Equipment
In full-fledged video shoots, there are many pieces of equipment involved. For optometry purposes, you'll need a high-definition camera, tripod, microphone, and a few lights. However, you don't need to splash a lot of cash in order to create an effective video. If you're creating a simple introduction video with a limited budget, you might even be able to film using an HD phone camera and lights.
3. Editing Software
Once you've filmed every angle, interview, product shot, and anything else you need, it's essential you choose an editing software that you either already know how to use or one that you can learn easily. Professional video makers love Final Cut Pro and Adobe Premiere for more in-depth sound editing, layering graphics, and bespoke animations. However, the software that comes with your laptop (iMovie and Windows Movie Maker) will suffice if you're just planning on removing mistakes, doing minimal color correction, and adding a soundtrack or titles. You might want to try creating your video with the free software before purchasing something new.
4. Optimization
You've heard us discuss the importance of making your online content traceable and readable for Google. This is even more important for videos. First, research the relevant keywords for your video's topic using Google Keyword Planner or by manually searching terms to see what suggestions and results appear. Use these keywords in titles, descriptions, metadata, and header tags so that people can find your content through organic search. Provide a transcription and select appropriate categories if you're posting on Youtube, Vimeo, or another video hosting website.
We hope these tips inspired you to start filming some content for your practice. Don't forget to share your videos through social media platforms to garner a larger audience.
---
For other actionable marketing insights and tips, follow our blog. You won't miss a thing.