Anyone who manages a business page on Facebook understands the frustration of trying to get your posts seen by your followers. Facebook has made it nearly impossible for your posts to be seen unless you pay to promote each post. If you're a small business balling on a budget, paying for optical marketing on social media might not be making the cut.
That's why we want to share some ideas and resources with you for increasing your organic reach to followers without paying for it. Posts that you aren't paying to promote might be reaching as few as 5% of your followers. We've seen this firsthand on our own Facebook page, so we understand the struggle. After doing a little research we want to share with you a few ideas we rounded up to help boost your organic reach.
6 Optical Marketing Strategies for Improving Your Facebook Reach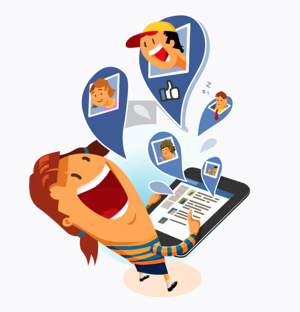 Share Original Photos
Original and visual content is the best for sharing. Photos tend to get the most interactions, and the more interactions you get on a post, the more people it reaches. Post engagement is part of the algorithm that gets your posts seen. If you're posting content that your fans like, you will see the benefits.
Post at Non-Peak Times
If you're posting content during the hours when less people are posting then your content has less to compete with for reaching newsfeeds. If you study your Facebook insights you can see the times when most of your followers are online, and when your non-peak hours would be. There are also additional third party tools that allow you track when your competitors are posting.
Engage with Questions
As we mentioned earlier, engagement plays a big part in getting your posts seen. So, ask for the engagement! Phrase your posts in the form of questions to help spark a conversation among your fans. On top of your post getting more interactions, if you're asking the right questions you could learn a lot about your community and target market allowing you to provide better service and care to your patients.
Include Social Sharing Buttons
Social sharing buttons on your website and blog is another way you can help boost new likes and get more of your posts shared. Social sharing buttons on your page allow visitors to simply click to tweet or post a link to one of your webpages. Even small shares like these play into the puzzle of getting your posts seen by more people.
Pay Attention to the Length of Your Posts
Paying attention to what types of posts perform the best is important in understanding how to plan your future strategy. So paying attention to the length of your posts is an important part of that process. Overall, shorter posts around 40 characters or less perform the best. But your audience is unique to you and could be different.
---
Want more optical marketing tips delivered straight to your inbox? Subscribe to the blog today.
Editor's Note: This post was originally published on July 2015. It has been updated for relevance and richness of content on December 2019