Researching eyewear and industry trends takes time whether it's through reading articles, discussing with your peers, or going to retail stores yourself. That's why we're here to do that work and let you focus on delivering better patient care.
Today, we'll be focusing on the stats and future trends that will influence your customer's purchases. Understanding where the industry is going can help you with pricing, marketing, and sales strategies for your opticians.
2020 Eyewear Trends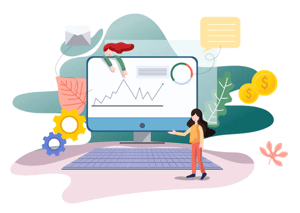 Global
$141.3 billion industry

$73 billion from men's eyewear
expected to reach $215 billion by 2025

$18.23 per capita revenue by 2023



Average $8,553 consumer spending per capita by 2023

Largest market: North America
Fastest Growing: Asia Pacific
89.7% of sales are brick & mortar retail, the rest is online

21% of all sales will be online by 2023
Key Players: EssilorLuxottica, Johnson & Johnson, HOYA Corp, Carl Zeiss
4.69% growth rate until 2024
Corporations investing and acquiring augmented reality or other new technology
Online marketing and promotion will be the key to combatting the number one growth obstruction: accessibility to affordable products and care. Making your practice known and creating budget-friendly solutions will boost your competitive edge for the next 4 years.
Demand for sports sunglasses is rising
Key Players: EssilorLuxottica, Nike, De Rigo Vision, Safilo Group SpA, Marcolin SpA
Competition is high and fragmented across the globe with many counterfeit or low-quality brands interfering.
Designer sunglasses continue to be strong in the market because they have become statements of luxury and wealth.

Price per Unit by Product Line

Electronic focusing eyeglasses could transform bifocal or omnifocal industry
12% growth rate for contact lenses

AR technology could create smart lenses
Bluetooth can monitor eye pressure and blood glucose
We hope this has helped you identify the gaps in your practice's products, growth forecast, and 5 year plan.
Editor's Note: This post was originally published in August 2015. It has been updated for relevance and richness of content in February 2020