If you own your own practice, you probably find that there aren't enough hours in a day to get everything done. While we all know that feeling a little too well, have you thought about where you might have the capacity to free up time in your daily routine?
Depending on the needs of your patients, your practice likely wastes time with inefficient communication, dated methods or technology, and consuming administrative work. Most of these time saving ideas have to do with eyecare practice management and using modern technology to make everyday tasks more easy and accurate. Read on to see how you can transform your practice day-to-day.
Optometric Practice Management Software Can Stop You From Wasting Time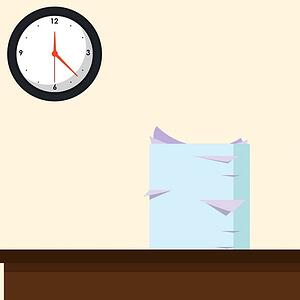 Running Your Office on Paper
Running your office on paper is something that eyecare practices are most familiar with, but it can definitely contribute to wasted time. Although the number of software options to manage your practice can be overwhelming, it's worth looking into if you're getting frustrated with the cost and inefficiencies of printing and paper records. There are several practice management and electronic health records (EHR) systems on the market that will help you speed up your workflow and save time.
By making the move to practice management and EHR software, you and your staff will reduce duplicate data work by auto synchronizing information throughout the exam, searching and sorting through your patient list without having to dig through individual paper files, and generating reports that help you better understand the business side of your practice. Each practice management system is unique, so if you decide that now is the time to make the switch, check out our Buying Guide eBook to help you weigh your options when it comes to new software for your practice.
Submitting Orders on the Phone
Submitting your ophthalmic product orders via the phone or fax machine could also be costing you time and money. Using these methods to submit your product orders is dated and leaves a lot of room for human error. Phone orders can be transcribed incorrectly and fax orders can be difficult to read. VisionWeb's online ordering service allows you to connect with over 400 suppliers in one online location so that you can submit orders quickly and efficiently.
And better yet, if you're sold on making the switch from paper to practice management software to help save time, why not switch to a system that has VisionWeb's online ordering solution embedded? Uprise has VisionWeb's ordering connection built into the system so that you can place spectacle lens, contact lens, and frame orders to your labs, for free.
Not Using a Patient Portal
Patient portals are another great tool that will help you save time that is normally spent on the phone with patients who have questions regarding their appointment details, diagnosis, or prescriptions. Patient portals provide a secure avenue of communication between doctor and patient. Patients can view their medical history and lab results, obtain education materials and treatment instructions, complete required questionnaires, and request appointments no matter the time of day. Giving patients online access to a patient portal will allow your staff to spend more time with patients in the office and less time on the phone.
Ignoring E-Prescribing
Similar to placing your orders online, you can place and order patient prescriptions online with E-Prescribing tools. E-Prescribing will let you securely access patient prescription history data from community pharmacies, access Physician Desk Reference online library, search for drugs through various filters, and send error-free prescriptions electronically to over 95% of the nation's pharmacies.
Uprise is a practice management and EHR solution that comes embedded with everything you need.
Editor's Note: This post was originally published on July 16th, 2014. It has been updated for relevance and richness of content on August 27th, 2018.