As you may already know, we use our website's blog as more than just a place to promote our products. In fact, usually the best blog posts are filled with useful information on the industry, marketing, and business techniques for our ideal customers.
Adopting the same mentality for your optometry practice's blog could entice your patients to subscribe and grow your brand.
From product updates to eye disease breakthroughs, you can keep your patients interested and remind them to come back to your practice with a carefully written blog post. Let's show you how.
4 Steps to Creating Blogs for Your Patients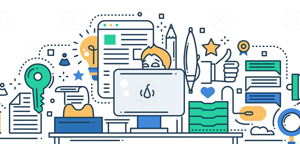 1.Choosing Topics
In order to create useful content, you should start with consuming relevant content and writing down your ideas when they pop up. Read optometry magazines like Vision Monday, Review of Optometric Business, and blogs like VisionWeb's.
If you come across some interesting content that your patients might be interested in reading, you can either share the content through your social media channels or create a master blog post where you recap interesting updates you read that week. Keeping a pulse on other blogs will inspire new ideas for your blog.
2. Skill Building
Writing doesn't come easily for everyone, especially if you are out of practice. Start practicing with short blurbs in emails and social media posts, especially instagram captions. Like Dr. Jenn here, you can share stories with your patient's consent and link to the full blog in your bio.
Using Skillshare, UDemy, or another online course to get the basics of planning, structuring, and actually writing your thoughts into a cohesive post.
3. Gaining Readers
Although you might think actually writing your post is the toughest part, it's not. Making sure your patients are actually able to see your posts is tough in optometry unless you have a list of subscribers. You should use your patient portal to send links to your online blog in every reminder email or patient education video/asset.
Additionally, getting your front office to handle monthly newsletters linking to your latest content could help boost your audience. Of course, sharing every new piece of content to your social channels and making blogs accessible from your website's homepage is completely necessary.
4. Feedback Loop
Encourage comments, social media shares, emails, new appointment requests, and in-person feedback from your patients with a "call to action" at the end of your blog. You can even send surveys to make sure you're creating content that your patients want to read, although your views and click-through stats should be a good indicator of that.
Surveys can help give you new ideas and encourage the feedback loop, which can also improve patient interaction. A patient with glaucoma could chat about something they read in your blog post on "5 Lifestyle Changes for Better Eye Health" to get more information in person.
---
Curious to hear other ways you can connect with patients? Our blog has you covered.