Sometimes a patient will visit you once or twice without complaint or any obvious issues, but then never return to your practice. If this has happened to you, you've been ghosted. It can be bewildering, but we have a good hunch as to why they might be leaving.
The main reasons for patient turnover are usually something within your practice's control, too.
Patients frequently leave without warning due to something like communication errors or long waiting times. We want to help you address and fix these before they drive patients away.
How to Explain Patients Who Don't Return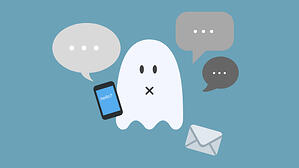 Communication Barriers
Do you know the preferred method of communication for the majority of your patients? The best way to find out is to test all methods (email, direct mail, phone calls, texts, patient portal) and see which have the biggest open rate or click-through rate. However, if this isn't an option for you, conduct a simple patient survey.
Many patients these days would prefer to text their healthcare provider, not only to receive appointment reminders, but to send in follow-up questions or receive patient education content. You can also update patients on wait times in your office or encourage them to leave online reviews via text.
Waiting Times (Late Patients)
Speaking of wait times, you're no stranger to the complaint that a patient had to wait past their slotted exam time. Usually, this is because a few patients before them ran late. You'll have to consult with your eyecare team and re-evaluate your late policy. Should you accept patients who arrive more than 5-10 minutes after their exam time? Should you require patients arrive early for any administrative tasks? Should you charge a fee for late patients?
If you want to keep on schedule and be respectful of your other patients' time, you might want to immediately reschedule anyone who arrives too late. Especially if you've honed your workflow and chosen the best technology to reduce your exams to less than 30 minutes. If you haven't already conducted an audit of your workflow, it might be time to walk through your processes as a team to see where you can shave off even just 30 seconds of each step with automation.
Personal Issues
Finally, patients might leave after having a lackluster customer experience. This is a more rare reason for leaving, but it is one that can be avoided with a bit of training. Although you are first and foremost healthcare providers, customer experience has become more important within optometry practices in recent years. Patients see themselves as customers, too. This means that you'll want to show your staff to address complaints, conflict, or common scenarios in a similar, respectful manner.
---
We don't shy away from tough issues here on our blog. Subscribe to see what we'll discuss next.