If you currently have a biller or split out insurance billing amongst your small staff, ask yourself if you're happy with your claim denial rate. Is your biller a bit overwhelmed with work? Does your small staff feel stretched thin because they're required to wear multiple hats? These are a few reasons that having your staff handle insurance claims might slow down your revenue stream.
Outsourcing your claim management can save you money in the long-term, keep your staff focused on patient care, and give you peace of mind. Read on to discover more benefits to separating your insurance billing from your eyecare practice's staff.
Should Your Optometry Staff Handle Insurance Claims?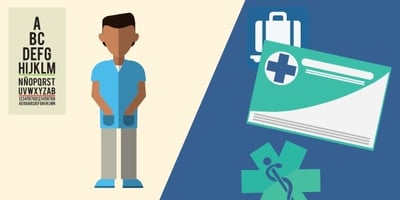 Expertise
When you're interviewing new hires, you make sure they are experts in their individual field. Whether they are office managers, opticians, technicians, or another OD, your staff is probably not well versed in insurance intricacies and the array of reasons for rejected claims the way a Revenue Cycle Management (RCM) team is.
You may not even realize how a lack of expertise could be hurting your practice today. When did you last check whether your claim denial rate was on par with the national average? If you want your claim management to be handled more efficiently, leveraging the expertise an external RCM team may be the best option for you.
Optometric Billers Have Limits
When your staff is mainly focused on patient care and creating positive experiences, the tedious task of filing claim reimbursement requests is not a priority. So, maybe you're considering hiring a specialist to take over your claim management?
Instead of hiring an in-house biller, a team of multiple experts could complete the work for you remotely, quickly, and accurately. Therefore, your practice doesn't have to worry about one optometric biller handling a sudden influx of claims.
Less Administrative Work
Insurance billing isn't just dependent on expertise, but also time. If your staff is comprised of roles not well-versed in claim management, they might not have enough time to dedicate to handling claim filings. A lack of bandwidth and energy can lead to an increase in errors. Errors in claim filings can lead to more rejections, denials, and money lost on reimbursements. Reduce the stress on your staff by leaving claim management to dedicated experts outside of your practice.
Large Practices
If your large practice's claim management seems to fall to the wayside during busy seasons, you're not alone. When your staff is mainly focused on patient care and creating positive experiences, using a clearinghouse solution to file claim reimbursement requests can even become overwhelming.
During busy seasons is when using a revenue cycle management team is most crucial and financially beneficial. An RCM team is perfect for practices that have experienced rapid growth in their patient base because it's more cost-effective than hiring new staff members. The RCM team is not limited by how many claims it can handle, so they have the bandwidth to cope with an influx of claim submissions.
Would your practice benefit from RCM? Find out through a free consultation with our team.