We know that the process of shopping around for a new practice management and EHR software can be intimidating and time consuming. And because it can be such an undertaking, you should make sure that you're taking all of the necessary steps towards finding a solution that will be the best fit for your practice.
So, we put together a checklist of all the things you should be doing before you dive right into picking out a new system. If you take the time to assess everything that your practice needs it's going to help you evaluate systems as you start checking out demos and talking with different vendors. While it may seem like extra work, hopefully it will help you land on a system that you and your staff will love. And make sure to check out our shopping kit at the end of the article so you can download templates for your practice evaluation!
How to Prep for EHR Software Shopping
Make a Practice Profile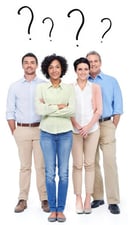 To get things started, you should really get a clear picture and understand the current situation in your practice. Look to your staff to find out what they like and don't like about your current system (if you have one). How tech saavy are they? What about your hardware and IT knowledge? Do you have the ability to manage servers in your office? Would you have to hire an IT consultant to manage this for you? Do you use tablets in your office? What's your workflow like? These are just some of the things you need to be thinking about when putting together your practice profile.
Determine Your Functional Needs
Your practice management and EHR system should be making your daily routine easier, not harder. Once you know what functions you're looking for, and which system has those functions, you can put it to work and get the maximum benefit for your practice. There are basic functions that most solutions will have including things like a scheduler, insurance eligibility and authorization, inventory management, spectacle and contact lens ordering tools, patient communication and recall, and an internal tasking system. What other functional needs are you looking for in a system?
Create a Requirements Description
Your requirements description should outline the basic features and functionality you expect to get out of a system, as well as the intangibles that will make the right system fit with your practice. This will be kind of like writing a job description for a new employee. Which system will have the features and functionality you need in order for it to be an asset to your practice?
Evaluate Different Technologies
These days when it comes to computer software, you have a few different choices. You can choose from client-server, cloud-hosted, or cloud-based technology. While we don't have the time or space in this post to run through the differences of these technologies, you can read 3 Terms to Help You Understand Optical Software Technology to help you get a better understanding. Or take a look at this flowchart to help you determine which technology might be the right fit for you.
Start Shopping
Now that you know what you need for your practice, and you have a little information about the different types of technologies out there, it's time to get started. But once you start looking at different systems it can get confusing and overwhelming. In our Shopping Kit we have worksheets for comparing different software, so don't forget to download your copy of the kit at the end of the post!
Assess Total Cost of Ownership
And last but not least, assessing total cost of ownership. We know that cost is a big factor in your decision to purchase a new system. Every practice has a different budget. So we put together a total cost of ownership worksheet to help you evaluate the different prices and costs of the different systems you think might be a good fit for your practice. With all of the research you have done, we hope that you will be able to find a system that meets your needs and fits in your budget!
Download your shopping kit today to get all the templates you need to get you ready for shopping for an EHR software!