We recently revamped our Implementation Mini Guide to include fresh advice from experts and actionable tips for a smooth transition. However, knowing that you can trust your software provider is invaluable before making a large commitment. That's why we encourage you to chat with vendors at tradeshows, over video calls, or even visit their office if you can.
If you're at Vision Expo West 2019 this week, we think you could benefit from dropping by our booth to chat with us face-to-face about your frustrations. Otherwise, here are four ways to establish a sense of trust with your vendors before signing the contract.
Shopping for Eyecare Software: Establishing Trust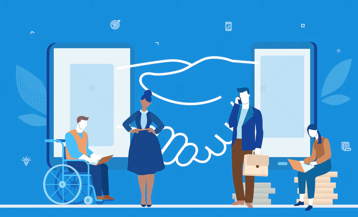 After you've sat through a few demos from the best software platforms, you might be trying to decide between two vendors. Here's how to get to know them a little better:
Online Research
Check the vendor's social media accounts, online reviews, and website. If they're creating useful content for customers and regularly posting, you know they're present and easy to reach. Also, you could foster a relationship with their followers to gain audience for your own social media pages.
Ask for Testimonials
Usually testimonials will be available on the vendor's website, but you are also welcome to message them directly to talk to an existing customer. This way, you can receive fully honest answers for your more specific workflow and functionality questions from another OD. While you're collecting feedback, talk to other peers of yours that might use that software to see how they feel. You can check Facebook groups to message people directly.
Face-to-face meetings
Nothing beats an in-person meeting. If the vendor is local or they're willing to come to your office, setting up a meeting to talk through the product, concerns, and contract negotiations. You might even be able to meet your account manager in person. You'll be able to feel out whether you can trust the company to take care of your practice based on how they accommodate your concerns.
The most convenient place to have as many in-person vendor meetings as possible is at a tradeshow. Vision Expo West 2019 is happening right now. If you're curious about Uprise EHR and PM, meet us at booth MS9035 to see how we have helped practices reach their goals.
---
Ready to talk to us? Schedule a demo or chat so that we can make time for you at the booth.