You might have heard the term upcycling in terms of clothing or home goods, but we can apply this to making your eyecare practice more eco-friendly. Upcycling is when you take an item that can no longer be used as intended, put some work into it, and either restore it or use it for something else. It's different from recycling because you aren't crushing it into its organic parts, simply changing its use.
This concept can very much be applied to items in your practice. Especially for things you were already going to throw out, upcycling can save you money and be a collaborative project for your team. Here are a few ideas to get you started:
Reduce, Reuse, and Upcycle in Your Eyecare Practice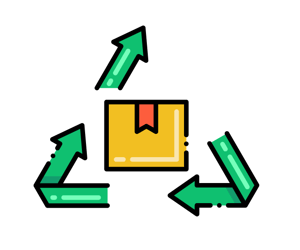 Product Displays & Furnishings
Over time, either your dispensary outgrows its existing display shelves or your furniture starts to get worn down. When you've decided it's time to replace them, take another good look at your pieces. Do your chairs just need new fabric, but the frame is still solid? Purchasing fabric and a staple gun might be all you need to refresh the seating in your waiting area. As for display shelves, you can purchase new displays that match your existing ones and section off your products into multiple, smaller, curated categories. It can be a better shopping experience for customers than if they're looking at a large wall of frames and don't know where to start. Not to mention, it helps to socially distance your customers.
Broken or Returned Frames
Pieces of inventory that you can't sell because they're defective or broken usually end up in the garbage. However, you can obviously donate old frames to nonprofits like OneSight and Lions Clubs International. Your staff can also use the frames to make artwork for your walls. Glue the frames onto a canvas, cover them in plaster of paris to create a sculpture, or superglue them together to create a replica of the practice's building. Instead of buying seasonal decor, you can spray paint these broken products and add them to wreaths, carved pumpkins, and Halloween costumes. Although it may sound time consuming, it'll be an interesting talking point for your patients and a bonding experience for your staff.
Now that you're planning on switching to an Electronic Health Record system, you'll have a lot of paperwork that needs to be shredded and securely disposed of. Instead of immediately taking these to the recycling, consider stuffing fabric poufs with them to create a kid's seating and play area. If it's really well shredded or not sensitive data, you can also use the paper as packing material for your dispensary orders if you have to ship products to customers. Local animal shelters or veterinary clinics use shredded paper for their crates, so you can strike up a new relationship and build local connections by giving it to them. If all else fails, get your team together to create art with the paper that you can display in your practice. This can be paper-mache or just canvases covered in shredded paper.