Moving, buying, or remodeling an eyecare practice is a big undertaking. So when you decide to go for it and make the change - it's important to take your time and really think about the future of your practice and how the decisions you make today will impact your practice in 3, 5, or 10 years. While you don't want to spend more money than you have too, leaving room for your practice to grow is an important part of planning for the future. Extra exam room space in case you hire another OD, room to grow your optical with more products, and extra space for future technology equipment are all things to consider when looking at size.
But outside of just looking at the size of your practice, today we want to look at a few design elements in your office that you should spend some time on if you are thinking about a move or remodel.
5 Ways to Improve the Design of Your Eyecare Practice
Larger Optical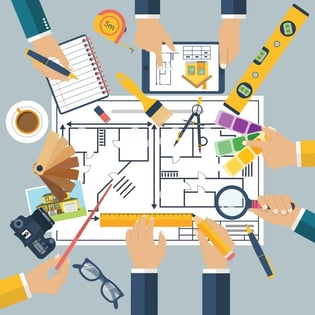 Optical sales in an eyecare practice is usually a big portion of overall revenue. Having the ability to add more product or more optical stations is important. If you're committed to the space that you're in - think about a layout change. Could you get more airy shelving to replace some of your frame boards to open up the space? Is your waiting room and optical in the same area? Can you re-arrange the waiting room area to add more room for product? There are so many options out there for shelving and display units, it's likely that you could find something less bulky if you are looking to clear more space in your optical.
Grand Front Desk
In many practices, the front desk is the first thing your patients see. Which makes this part of your practice a good area to splurge on. Make your front desk a statement piece. Things like cool branding and logo placement, plus high end furniture finishes can make a big impact. Granite counter tops, modern computers, and limited clutter will help make your front desk pop.
Modern Flooring
The flooring in your eyecare practice can really change up the entire look and feel. No-slip laminate, tiling, or concrete are all good options for the front of house. Switching from a darker flooring to something lighter could help open up the space and make a huge difference. It could be a good place to start if you are looking for a refresh or somewhere to start.
Instagram-worthy Wall Decor
These days, getting your patients to promote your practice is a big boost to your patient growth and social media is a great place to do that. Having Instagram-worthy photo-ops in your practice is a great way to get patients to snap pics and tag your practice online. Giant frames, decorative walls, or photo booth type settings are a few ways to implement trendy backdrops that are great for photo-ops to help spread the word of your eyecare practice.
Updated Tech
Whether it's sleek new computers across your office, the latest in equipment technology, iPads in the waiting room, or try-on apps for frames, equipping your practice with hi-tech solutions can also be a design upgrade in itself. Clunky tech or dated technology can make the look of your entire office feel dated and cluttered. This is an overhaul you can make without much disruption to your practice.
For more practice-changing ideas in your office, subscribe to the blog!