Every now and then it's good to take a mental break from your daily routine and explore different options for learning, inspiration, and business motivation. It's easy to get stuck in a routine of doing things and forget to take the time to evaluate your vision for your practice, your team, and your personal growth as a healthcare professional.
Our optometry blog strives to give you the best information and resources for improving your eyecare practice, but we also like to have a little fun. That's why we wanted to share our top book choices to kindle your flame. Whether you're looking to hunker down and take notes or skim for some new ideas, we've found the book for you.
6 Books to Get You Through The Final Leg of Winter from Our Optometry Blog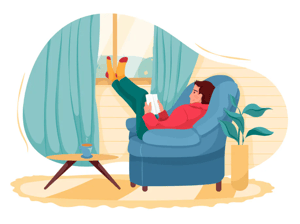 How to Measure and Improve Staff Productivity in Private Practice Optometry, by Jerry Hayes, OD
This book was written by a fellow OD to help practices big and small improve on increasing staff productivity and patient care. This book goes over topics including obstacles to growth, how much you should pay your staff, staff bonuses, team meetings, hiring top performers, and more. You can get your own copy of the book from Amazon.
Visionary Kitchen: A Cookbook for Eye Health, by Sandra Young, OD
There are all kinds of infographics and articles out there promoting different foods for eye health. But now, there's a whole cookbook! Whether you want the book for your own personal kitchen or as a book your patients can browse through while in your waiting room, Sandra Young created what you need. The book is designed to be a complete recipe, food, and nutritional guide to support optical health and well being of ocular tissues.
To Sell is Human, by Daniel H. Pink
No matter what line of work you're in, sales is somehow a part of your role. Optical practices also require everyone on the team to be sales-focused. You use sales techniques to find new patients for your practice, make sales in your dispensary, or to sell yourself to a new practice. If you're looking for a little sales motivation for you or your staff, we recommend checking out this one.
Grit, by Angela Duckworth
Sometimes you might feel your efforts aren't working. That's when Grit comes in to motivate you and reassure you that hard work and perseverance DO pay off. Angela Duckworth is a respected psychologist who uses a mixture of empirical research, anecdotes, and interviews with successful people around the globe to discuss why grit is more important than intelligence.
Scrum, The Art of Doing Twice the Work in Half the Time, by Jeff Sutherland
If you're running a private practice, we know that you don't have much time for anything else, and you're always wondering why there can't be more hours in a day. A lot of times it's hard to pinpoint and address the inefficiencies during your day that are causing you to waste time. Scrum is a proven project management method that helps increase productivity through planning and optimizing your daily tasks.
The Art of Social Media: Power Tips for Power Users, by Guy Kawasaki and Peg Fitzpatrick
If you aren't spending time marketing your eyecare practice, you're losing customers to your competition. Social media is a relatively cheap, easy, and entertaining way to reach your target market. This book is great whether you're a beginner on social media, or if you're running experienced business pages. You'll learn from real life examples that remove any guesswork.
---
If you're looking for some optometry-relevant reading material, don't forget to check out our library of free resources that cover topics across the eyecare industry, marketing, and software.
Editor's Note: This post was originally published on February 21st, 2015.