Excellent patient communication in 2020 can build and restore relationships, clearly communicate the procedures and values of your practice, and ensure that you're able to adapt and implement any necessary changes. That's why we're happy to announce that Uprise integrates with a patient communication tool that ODs love, Weave.
Weave software integrates with Uprise EHR and Practice Management to provide a seamless patient experience that's also headache-free for your entire staff. Here's what you can expect:
How Uprise and Weave Transform the Patient Experience Together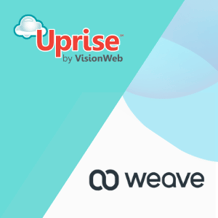 With these robust systems working together, your optometry practice staff will have access to patient background and health records as soon as a patient calls your office. This reduces time spent pulling up existing records, appointments, prescriptions, and more during phone calls. Furthermore, with Weave's intuitive daily reminders and messaging, you can reduce the number of no-show or late patients or inform patients of last minute closures and changes. Within messages, you can also provide patients a convenient way to reschedule their appointment if they are sick or unable to make it.
Here are a few ways that Weave helps keep your staff and patients safe through minimal contact:
Curbside Check-in
Pre-scheduled messaging through your office phone
Email marketing
Send forms ahead of time
Contactless payment via text message
---
Reach out to our team to learn more about how you could benefit from Uprise + Weave.