With the reopening of businesses in some states, optometry practices are getting their inventory and staff prepared. However, it can be difficult to keep up with new insurance rules, government regulations, and local mandates while delivering care to a larger volume of patients.
Therefore, we thought it would be a good time to give a general summary and update on the eyecare industry and what might be on the horizon for optometrists to keep their pulse on. Here's what you need to know in order to make the next month a success:
May 2020: Eyecare Industry News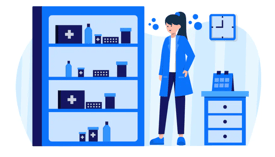 COVID-19
It can help to see that you're not alone if your practice is operating at under 25% capacity or closed. With every passing day, the news surrounding coronavirus changes and optometrists need to stay up-to-date to accommodate patients in the short-term while keeping the long-term health of their practice in mind. To find out what your fellow ODs are doing for their reopening, check out the results of the surveys from Review of Business here.
Finances
Start by getting your SBA/PPP or other loans, insurance claims, and employee management paperwork in order before opening. For future planning, change your budgets and projected profit for the rest of 2020 to include the loss of revenue and reduction of expenses in March/April. Then, you can plan marketing campaigns to make up for any significant losses. If you're offering telemedicine visits, make sure you have professional liability insurance that covers those services and reference our telehealth billing guide if you're going to begin offering telemedicine.
Staffing
Many practices had to furlough their staff during closures, so their staff will be returning and might have questions or requests. Make sure to set up time to discuss the new situation with staff members and give them as much information as possible about their contracts, future closures, and protective measures in place. Of course, staff benefits will differ, but you should treat your expert staff with respect and care at all times.
Keep your staff safe with the appropriate personal protective equipment and sanitation practices in your office. Although the materials can be both expensive and difficult to come by, there are measures in place to help ODs. The AOA Excel group has advice and purchasing partners to help you procure PPE. Furthermore, an Amazon healthcare account could be helpful for your practice inventory.
Education
With large events being cancelled for the foreseeable future, it'll be hard to predict when you can attend in-person CE courses. For ODs who still need to accrue credits, many organizations are moving education events online so that you can attend webinars and COPE approved credits online. Keep updated on these events so that you can still earn the credits you need.
---
Stay updated with the advice of successful optometrists like yourself. Read our interviews.