If you're already taking advantage of VisionWeb's claims management solution, you should be aware of everything that the system can do for you. In fact, with any software it's important to be taking advantage of using all the parts of the system - not just the parts you're aware of or familiar with. We've noticed that a lot of our current customers aren't taking full advantage of using ERA management, and we're here to tell you what you're missing out on.
Our ERA management feature helps your billing department better control accounts receivables by automatically interpreting remittance information received from your connected payers and delivering it to you electronically instead of via a paper EOB. This service gives your practice an important tool to expedite the reconciliation process.
3 Ways ERA Management will Help Billers
ERA is Searchable from Any Device with an Internet
Connection - You'll have the ability to search and sort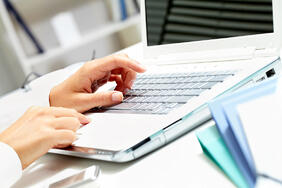 remittance information by provider, payer, date range, check number, or payment method.
Detailed Summaries - You'll no longer have to worry about misplacing paper EOBs. The summary views give reasons for adjustments, denials, and reductions, along with transaction-level and claim-level payment summaries.
Better Information Management - Remittance information is automatically stored for 7 years. Plus you can download, import, export, and print reports for easy archiving, processing, and practice management integration.
Each of those three ERA Management features are going to help your billers accomplish more throughout the billing cycle in a shorter amount of time. Billers love it because they are able to:
Balance remits easier
Receive faster communication of payement notifications
Reconcile accounts quicker
Fix problems earlier
Spend less time on paperwork
If you're interested in a claims management solution for your eyecare practice, why not try one that comes with ERA management? Request a quick demo to learn how your billing cycle could improve!