Social media is always changing, making it hard to keep up with all of the different trends.One trend that seems to be growing noticeably is the use of hashtags. Hashtags found their fame on Twitter, and have now spread to various social media sites, making them an important social media tracking tool. Our friends at The Optical Vision Site recently posted a blog on Hashtags for Eyecare Professionals, that we would like to share with you today.
Using Hashtags in Social Media for Optometry
The use of hashtags has grown. Eyecare professionals can take advantage of hashtags in many ways via Facebook, Instagram, Pinterest, and of course Twitter. You may even have been engaged in a contest or promotion using hashtags. Hashtags have become like a 'coupon coding' to track results and to get referrals.
Yes, #hashtags can be #overused #annoying #unreadable and #i #personally #find #them #irritating #but #know #they #are #important, which is why this post is being written. There are many popular hashtags that eyecare professionals can use via their social media, besides #Eyecare, #optical, #eyedoctor, #eyeglasses, #sunnies, #sunglasses, #sunwear, #contactlens, #optometrist, #optician, #eyehealth, yada yada yada…
#GiveBack Tuesday. This is an opportunity to promote either events you are involved in, or some of your products you carry that are involved in giving back. For example:
Clearvision - Breast cancer
Eyes of Faith - Purpose driven company
Fashion Optical - Bamboo eyewear and made in the USA
Hilco - Breast cancer
McGee – Vera Bradley - Breast cancer and more
Modo - One for one, recycled materials, and plant trees
Modern - One for one with their readers
Proof - Eco and give back
Toms - One for one programs
WileyX - Breast cancer and vets

give back.

#OptometryGivingSite, #InFANTSee, #Visionwalk, #Onesight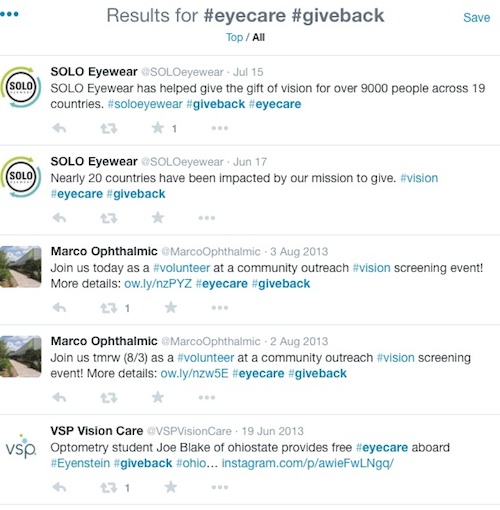 Vintage and History HashTags
People are loving anything nostalgic, historic, and retro. This is an opportunity to post old pictures of the office, vintage pictures of your neighborhood, historic trivia, eyecare of yore, old posters of some of the products you sell, or historic perspective of equipment. The options are endless here, and they are great #shareable opportunities.
Some hashtags are: #ThrowbackThursday, #TakeMeBackTuesday, #WayBackWednesday, or #FlashbackFriday.
We have eyewear and equipment vendor histories from:
We also have quite of bit of history posts under our category History of Eyewear, which are perfect for Facebook, Pinterest, and Twitter.
Day of the week hashtags can be fun.
#MondayBlues #ManicMonday, #MusicMonday, #ManicureMonday, #ManCrushMonday. Monday blues, could be a joke. Music is always a popular topic, and there are tons of 'Eye Songs' on YouTube that you can use. Custom manicures are a hot trend, and posting eyeglasses on manicures (tons of) would be fun. And finally, #ManCrushMonday could be favorite celebrities in the movies.
#TransformationTuesday. This could be, with patient permission, your eyewear or contact lens before and after pictures of patients posted on Tuesday. Which could really serve as a great testimonial for your practice.
#HumpDay, #WellnessWednesday, #WednesdayWisdom. Hump Day, another joke, maybe a promotion or trunk show. Wellness Wednesday can be health or recipe sharing. See our post on Marketing Events for 2015 for a listing of Wellness Posts you can incorporate on Wednesdays.
Thursday… TYISAF (Thank You- It Is Almost Friday) #ThirstyThursday, #Thursdate, #ThursdayFunDay, #ThankfulThursday. Thirsty Thursday, can be a sharing of your favorite drink. In places like San Diego, you could even do a sharing of your favorite local micro brewery. Thursdate, we like this, you can have your patients engage by telling you what they did on Thursday or on Fun Day, which is also Friday and Sunday.
#FridayNight, #FridayReads, #FridayFunday, and #FollowFriday
Should Saturday and Sunday be a day of rest? If not check out #SaturdaySwag and #SaturdayShenanigans, #SundayFunday or my personal Never on #SelfieSunday
Be sure to check out The Optical Vision Shop's blog for more posts!