It is important to strive towards creating a real relationship and connection between your practice and your patients. And social media promotions are a great way to help build those relationships, so the ladies at The Optical Vision Site have come up with the Eyecare Professionals Marketing Calendar for 2015. This list includes all of the holidays, events, and celebrations that your practice can use as promotional marketing to your patients!
Creative Eyecare Practice Marketing Opportunities
In a previous blog post written earlier this year we covered the 2015 marketing
opportunities occurring in Q1,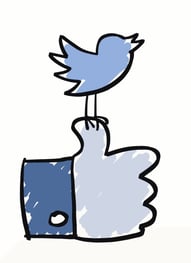 and now we will look at the second half of the year. Don't be afraid to use some of these ideas in your eyecare practice marketing strategy, even though some of them are a bit wacky! Funny and interesting posts get shared, and can get your brand more awareness than you realize! Things like Throw-back-Thursday (TBT) or posting to Pinterest may seem unnecessary, but it is part of modern culture and leads to success more often than not.
We have picked out a few of our favorites ideas, but you can you view the full list at The Optical Vision Site. Use these ideas to help kick-start your creative thinking and get your patients more involved with your practice! While these are quite a few holidays and events they are not them all, you can always do research and find an opportunity to connect with patients in a unique and memorable way!
July
Holidays by Day:
July 4 - Fourth of July-

Eye Safety

.

July 11 -

National Cherry Day

– Engaging Patients

July 12 - Different Colored Eye Day




July 13 -

National French Fry Day

July 21 - National Junk Food Day

July 23 - National Hot Dog Day:

July 25 - National Merry Go Round Day

July 26 - National Cowboy Day
August
To Do:
Holidays by Day:
September
To Do:
Holidays By Day:
October
To Do:
Holidays by Day:
Oct. 2 - National Manufacturing Day - This might be a good way to showcase your lab or a vendor on manufacturing. There are many YouTube Videos on manufacturing eyewear and labs.

Oct. 3 - National Golf Day

Oct. 9 - World Sight Day

Oct. 12 - Stop Bullies Week




Oct. 15 -

World Handwashing Day




Oct. 25 -

National Orange Day

– Wear Orange to protest violence against women and girls. Decorate in Orange, wear orange to commemorate this day.

Oct. 29 -

National Cat Day

(Trivia) and Cat- Eye Eyewear. Both sites with trivia and eyewear.

Oct. 31- Halloween
November
To Do:
Black Friday

Small Business Saturday

Cyber Monday

Flex Benefits
Holidays by Day:
Nov 1 - Day of the Dead

Nov 1 - Great American Smoke Out (Infographics)

Nov. 8 -

National Radiology Day

(History of x-ray Vision)

Nov. 15 - America Recycles Day

Nov. 26 -

National Cake Day

Nov. 26 - Thanksgiving
December
Christmas

Hanukah

National Bingo Month (Facebook engagement)
To Do:
Set up Marketing Calendar For 2016




Set up Business Plan for 2016

Plan Holiday Party if haven't already
Holidays by Day:
Dec. 2 - National Mutt Day –

www.nationalmuttday.org

Dec. 6-14 Hanukkah

Dec 8 - RIP-

John Lennon

Dec.12 - Poinsettia Day

Dec 18 - Bake Cookies Day- Good recipe sharing.(Check out our Pinterest Board)

Dec. 25 - National Chocolate Day (Check our our Pinterest Board Chocolate)

Dec. 25 - Christmas
Check out all the other great information and resources available at The Optical Vision Site!