In a recent report by Epocrates, a company that creates various mobile health software applications for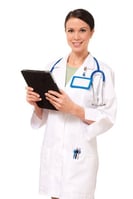 health care providers, in 2014, 9 out of 10 healthcare providers will use smartphones, and nearly as many will have adopted tablets. On top of that, when it comes to EHR software and adoption, only 1 out of 3 clinicians say that their practice's EHR is optimized for mobile use. This is surprising considering that EHR management is the top professional use of tablets among most clinician segments.
So what does it all mean? Whether you're purchasing an EHR solution to participate in Meaningful Use, or if you just want to keep up with the industry and mobilize your office, there are several benefits of using tablets in your office to streamline your workflow and provide better patient care.
How Tablets and EHR Software Will Help You
Provide Better Patient Care
In most cases, doctors who are using tablets, are also still using desktops. Tablets are being used as an extension to traditional computers. Because even if your practice management and EHR system is optimized for tablets, there are some things that traditional computers are typically better at. But, let's take a look at how tablets are transforming healthcare and how they can help you provide better patient care.
Access to Resources
Because you can carry tablets around with you, throughout the office, you'll have access to a variety of resources at your fingertips. There are a variety of apps available that give you instant access to materials that can help educate your patients, or provide you with clinical decision support to help you provide a more accurate diagnosis and treatment plan. Being able to use your tablet to show your patients a video that will help them better understand a problem that they are having will also help foster your relationship and build trust with your patients.
Constant Communication
Tablets in your office are also a great way to increase communication with your colleagues, your patients, and your EHR software. You'll be able to respond faster, and keep in touch while moving throughout the office, from room to room. You're also not going to have to have your back turned to your patients when asking them questions about their medical history and symptoms. With a tablet you're able to sit side by side, make eye contact, and have an actual conversation with your patients instead of having your back to them as you face a monitor. This is just another way that tablets help build your patient relationships.
Extends the Work Day
With a cloud-based practice management and EHR system, you'll have access to your system from any tablet (or computer) as long as you have an Internet connection, or a data plan on your device. So whether you're in the office, or at home, you'll have real-time access to your system. This extends your work day and gives you the freedom and flexibility to work when it's convenient for you.
If you're looking for an EHR software for your eyecare practice, check out Uprise, a cloud-based practice management and EHR software.