Growing your following on Facebook is a great way to step up your optical marketing game and generate new interest in your practice. These days, there are so many people and businesses on Facebook that is can easily get crowded and hard to reach the people that might visit your practice.
Getting started with paid ads on Facebook can be overwhelming if you are new to the game and don't know where to start. Plus, you might be working with a small budget and want to ensure you're getting the most bang for your buck. We want to focus on some of the audiences you can target on Facebook to find new patients and generate new business for your practice.
Grow Your Facebook Following by Targeting These Audiences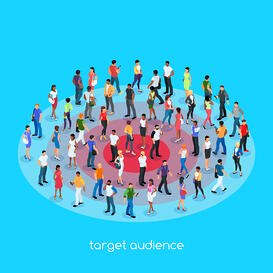 Friends of Your Followers
One of the strongest ways to gain business for your practice is through referrals. These referrals could be word of mouth or through online reviews of your business. One way to target your audience on Facebook is to promote your page, or post, to Friends of Your Followers. Promoting your page this way will allow your page to show up in news feeds with the names of some of your followers "backing" your business to their friends. Imagine and ad for your practice similar to this:
Highlighted in yellow you'll see how Amazon is able to use their followers to promote to their friends. It's safe to assume that patients who like your page have many Facebook friends that live in the area and could potentially become patients of your practice.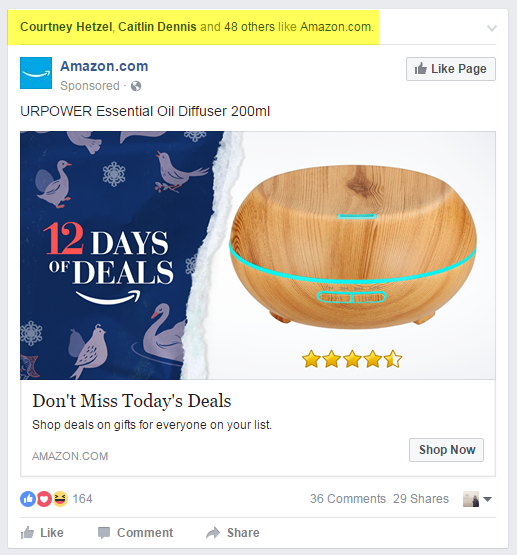 People Located within "X" Miles of Your Practice
This one seems pretty obvious, but you want to be targeting an audience that is in close proximity to your office. You can easily target your audience to only include people within a certain zip code or city limits. If you don't narrow down your audience by location, you could be a practice in Chicago with your social ads reaching people in San Francisco. That's not a very efficient spend of your ad dollars.
Parents
What's better than a single patient? An entire family of patients. Through Facebook's advanced demographic targeting you can get specific on the age of your audience and also narrow down the target to parents. On top of that, you can target parents with children of a certain age group. If you specialize in pediatric optometry or family eyecare, this could be a great target to focus some specific family-related messaging towards.
People Who Already Follow Your Page
Sometimes even the people who already like your page don't see your content unless you pay to promote it to them. So if you're promoting specific promotions or practice events going on in your office, your current patients could be one of your best targets. Plus, it will help boost interactions with your page and be a good reminder of your practice for patients who haven't been in for a while.
---
Curious about how else you can define your marketing? We deliver our tips straight to your inbox.
Editor's Note: This post was originally published on December 2016. It has been updated for relevance and richness of content on January 2020.