It's Monday morning and you're in your car headed to your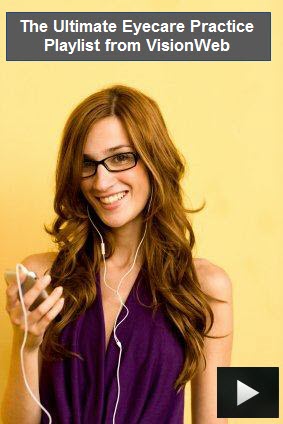 eyecare practice to start the week. The weekend wasn't long enough (it never is) and you know today is going to be busy. So you flip through the radio to try to find a song or two that will really wake you up and get you in the right mindset for the day...
Well, flip no more! We've compiled 11 hit songs into an eyecare practice-themed playlist to help you get, and stay, motivated throughout your busy days. Crank it up when you're on your way to work or when you're done seeing patients for the day. It's sure to get you going!
*To listen to all the songs on the playlist without clicking between songs, select them all and add all to current songs
The Ultimate Eyecare Practice Playlist from VisionWeb on GrooveShark
11 Hits for the Eyecare Practice Employee
Track 1: Telephone – Lady Gaga ft. Beyonce
(For Answering Phones and Scheduling Appointments)
"Stop telephonin' me…I'm busy!" Answering phone calls all day in a busy practice while maintaining proper phone etiquette can be very time consuming – and hectic. You know what it's like when you're busy with patients in the office and have to ask them to wait a moment so you can answer a phone call. It can be a stressful balancing act! Might we suggest a 5 minute break to kick back and jam out?
Track 2: On To the Next One – Jay Z ft. Swizz Beatz
(For Checking Patients In and Taking Co-Pays)

"On to the next one. Hold up, freeze…Somebody bring me back some money please." Checking patients in is a daily task that can leave a big first impression on new customers, and first impressions are very important. Especially now that patients can write a Yelp! review for your eyecare practice in seconds if they have a bad experience! So, keep that smile and positive attitude shining through the end of the day, even if you are secretly humming On To the Next One in the back of your head.
Track 3: Move Along – The All American Rejects
(For Moving Patients through the Appointment Process)

"Move along, move along just to make it through" You have to get patients from check-in and forms to pretesting to refraction to optical, and then out of the office as efficiently as possible. It's important for keeping the patient happy, and for keeping the schedule of the entire office on time!
Track 4: 1, 2 Step – Ciara ft. Missy Elliot
(For Performing Refractions)

"I love it when ya'll 1, 2 step. Everybody 1, 2 step!" You need the patient's prescription in order to sell them the ophthalmic products, right? Then it's time to get them in the hot seat for some "better 1, better 2" action!
Track 5: Don't Blink – Kenny Chesney
(For Glaucoma Testing)

"So don't blink. Life goes faster than you think." Most patients get antsy when having their eyes poked and picked at, so sitting still and fighting the urge to blink can be especially difficult when they know that puff of air is coming! Enduring glaucoma tests can be their (and your) most challenging part of their appointment. Maybe a soothing rendition of this popular country song will help put them at ease and remind them not to blink.
Track 6: Anyway You Want It – Journey
(For Placing Spectacle Lens, Contact Lens, and Frame Orders)

"Anyway you want it, that's the way you need it, anyway you want." Ordering ophthalmic products is a necessary part of the job! Online optical ordering services make the process much easier – and give you something everyone loves: options. Order online by going to VisionWeb.com, or take advantage of ordering functionalities of a practice management system. Plus, VisionWeb's network of connected suppliers is the biggest in the industry so you can continue to do business with the suppliers you know and trust – the choice is yours!
Track 7: Check on It – Beyonce ft. Slim Thug
(For Checking Order Status with the Lab)

"Ladies let em check up on it, watch it while he check up on it." How often do patients call wondering when their order will be ready? All the time, right?! That's why you need to have order status information at your fingertips, like only an online ordering solution can offer. You can track orders with a few clicks of the mouse and relay the information to patients immediately – without having to call them back after calling the lab. What a quick and efficient way to check up on it!
Track 8: I Don't Want to Miss a Thing – Aerosmith
(For Coding Insurance Claims)

"Don't want to close my eyes, I don't want to fall asleep, and I don't want to miss a thing!" Coding claims involves paying very close attention to detail. That's why you need to have the right tools to remedy any electronic billing problems. There are hundreds of factors that can cause a claim to get rejected. And as you know, the insurance companies are specific. So be sure to pay close attention to the details so you don't miss a thing!
Track 9: Stronger – Kelly Clarkson
(For Dealing with Rejected Claims)

"What doesn't kill you makes you stronger!" Rejected claims can be one of the biggest pains in the insurance world. Electronic claims processing services offer detailed reporting and analytics to make the task more bearable. Find rejected claims quickly using reporting and analytics tools so you can resolve the problem and get your claims paid!
Track 10: Rolling in the Deep – Adele
(For Reconciling Claims & Patient Accounts)

"We could have had it all…rolling in the deep" Adele really says it all on this one! Seeing those payments from your insurance payers is a good feeling for every practice. But the work isn't done once you have the money! Now it's time to reconcile those accounts and make sure you got all the money you should. Hopefully you're making this part of your life easier by managing electronic remittance advice (ERA) online.
Track 11: Money – Pink Floyd
(For Paying Bills)

"Grab that cash with both hands and make a stash." There is no way around it; everyone has bills to pay. Lucky for you, VisionWeb's optical ordering services are 100% free for ECPs, giving you unlimited access to your suppliers all in one convenient location. In a world where it seems like everything cost something, we're glad to offer a service that won't cost you a dime!
So what are you waiting for? Get to jamming out with this playlist to get you through the work day!
Now, we want to hear from you! If your work life had a soundtrack, what songs would be on it?
Like what you see? Subscribe to the VisionWeb Blog, and never miss a beat!