Three months ago, we called for your vote on our seventh installment of VisionWeb's Lab of the Year program. The results are finally in and we are excited to announce that this year's winners are: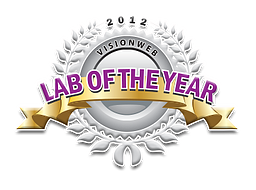 We would like to congratulate the winning labs on their exemplary results in growing and maintaining customer loyalty using VisionWeb. Out of all of our spectacle lens suppliers, these forward-thinking labs have embraced the VisionWeb technology and are making an important impact on increasing the efficiency of the industry.
The Lab of the Year Winners are featured in a special section on the VisionWeb site, will be announced to VisionWeb members via e-newsletter, and will also receive an award commemorating their recognition.
On top of VisionWeb member's votes, the labs were evaluated on a variety of criteria, including ability of the lab to retain and grow VisionWeb usage among their customers, and willingness and ability to promote our optician ordering software to their customers. It is our privilege to thank the winning labs for their outstanding efforts!
Labs who are interested in participating and learning more about the Lab of the Year program can contact customer service. The winner of next year's award could be you!
Don't miss out on the latest from VisionWeb!