Let's take a peek into what it's like to dress like the rich and famous with a countdown of the most expensive eyewear available for purchase today. VSP shows that the average amount consumers plan to spend on an eyewear purchase is $238, and you can certainly find frames that are less expensive at corporate retailers.
Next time your patients are disgruntled with the cost of their mid-range or even luxury frames, you might want to cost-compare and justify your value with these jaw-dropping prices.
The Most Expensive Eyewear Ever
Other companies that have gold and jeweled eyewear are Ogani, Cartier, and Fred, but they are not included on this post. For more information and to view some of the past Most Expensive Eyewear, including Dolce and Gabbana ($389,000, 14KT gold Clic, $75,000), see the Optical Journal's Pinterest Board.
25.) $6,000: Philippe Chevallier (1970)
24.) $6,670: Porsche
24-Karat Gold And Platinum Porsche P'8499 By: Porsche Design

23.) $6,800: Ray Ban RB2157K Super Limited
Ultra Gold Edition Nothing Like It | eBay
22.) $7,000: Casanova Venezia
(Italy Vintage Sunglasses)
21.) $7,500: Mykita Rad Hourani Black Sunglasses
20.) $7,950: Christian Dior Glossy Gold 500 Sunglasses
19.) $12,000: Lanvin Sunwear by Phillippe Chevallier
18.) $12,000: Lanvin Sunwear By Phillippe Chevallier
17.) $12,000: Judith Leiber
16.) $14,900: Elegant Matte Golden Sunglasses by Robert La Roche
15.) $15,000: Lanvin Sunwear By Phillippe Chevallier
14.) $22,000: Elvis-Presleys-sunglasses
13.) $25,000:

Cartier, Paris
18k gold from the 1980′s,and weighing 7.5 carats of diamonds. Cartier, Paris luxury eyewear is truly one-of-kind.
12) $25,000: Ultra Goliath
Vintage Frames Company's Ultra Goliath with over 2,000 round brilliant diamonds totalling 15 carats are set into 65 grams of gold.
11.) $30,000: Gold and Wood
Buffalo Horn and 119 Diamonds
10.) $38,000: Bulgari Eyewear Collection
9. $50,000: Bentley Sunglasses
The basic collection runs about $16,200, but if you really have a hankering for a more upscale look, you can order the $50,000.
7.) $60,000 Michael Jackson Sunglasses
(Julien's Auctions in Beverly Hills, California)
6.) $60,000: Limited Edition Maybach Eyewear

5.) $25,000 - $108,000: Sama
4.) $159,000: Cartier Panthere
Sent to us from Tim Moss of Eye Elegance in Houston who says that this is made only by special order.
3.) $200,000: Emerald Sunglasses
By: Shiels Jewelers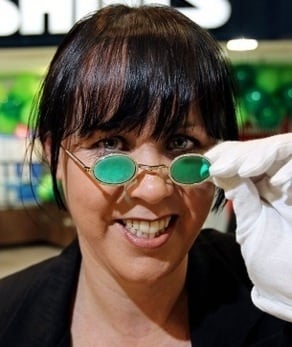 2.) $400,000: Chopard Sunglasses
Featuring 51 full cut River diamonds (4 carats) and the temples have 24kt gold trim.
1.) $3,000,000: The Liz Taylor Diamond MASK
It was designed and made in 1993 by Henry Dunay for Elizabeth Taylor. They called it the "Lachrymosa" referring to the sadness that AIDS brought to them. The piece was auctioned to benefit the American Foundation for AIDS research. It is set with over 130 carats of diamonds in platinum and gold