Based on the needs of our readers, we're starting a new series here on the VisionWeb blog called The Financial Guide. We'll explore your most pressing questions about money, profit, and billing in your practice. Feel free to submit questions via email or commenting below!
Many ODs hesitate to launch marketing campaigns because they believe them to be expensive. Of course, this is the case if you're thinking about putting on an event, doing a rebrand of your practice, paying for billboards, or creating other tangible advertising.
However, if you're focusing on a segment of your local population, running a limited-time discount, or conducting another short-term campaign for a small practice, expenses can be as low as $100.
Let's break down the expenses of a marketing campaign to help you know what you can afford for your practice this quarter.
Optical Marketing Expenses and Budget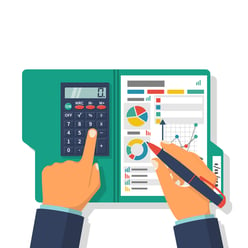 There are many different types of expenses to consider for any campaign you're going to run. Of course, most digital campaigns will have lower costs than an in-person campaign. Let's see if there's anything here you might not have thought about during initial planning.
Up-front
If you're promoting a new product or discount, you'll mainly focus on digital and physical ads. This would involve the startup fee of possibly hiring a designer to create the ads ($50-100/hour) or making them yourself ($0).
For digital ad campaigns or social media campaigns, you'll only really have to worry about the Pay Per Click (PPC) cost. With Facebook ads, you can even set the time period and maximum budget so that you don't go over. Usually, you don't need to spend more than $40-100 on these ads, depending on how long you want them to run and how wide an audience you'd like to reach. We recommend targeting a small, but strong audience of people who have either liked competitors' pages or searched for optometry practices near you.
Labor
For events and tradeshows, you'll have to pay at least minimum wage ($7.50-15/hour) to anyone building booths, setting up decorations, passing out flyers, breaking down booths, etc. You'll also have to account for your team's hourly wage based on the hours they're allocating to the campaign rather. Although these hours don't cost you extra, they can help inform how long everyone should spend working on a campaign in the future.
Materials
Printing prices can range widely. You'd be surprised how expensive banners, signs, badges, and other promotional materials can become. Usually setting aside at least $500 to print physical flyers and signs is a safe bet for exhibits, tradeshows, conferences, and any other events where you have a booth or talk or panel that you want people to attend.
Reduce your bills (and go green) by asking your team or local organizations to donate decorations and used materials for your events, charity fundraisers, or even cleaning needs.
Overhead
Overhead costs usually only apply to events you run. The cost of rent, lighting, utilities, water, and any other fees that come with renting a space are good to take into account. Ideally you'd like to keep these costs low because they don't directly add to the patient's experience. Having your team do the setup, breakdown, cleaning, and more can offset at least $300-500 in fees.
Maintenance
Say one of your campaigns is launching a referral program for loyal patients; wouldn't the discounts they receive for referring new patients be an ongoing cost? There are usually no upkeep costs for one-time campaigns. However, there are usually continuing expenses for long-term discounts, incentives, raffles (like incentives for online reviews), and etc. Take into account how much money your practice would lose month over month before deciding the limit for these incentives. We recommend nothing more than a $20-$25 credit on a patients' account for a referred patient.
---
Want to think more long-term for your marketing or budgeting? Here's our guide to building a 5 year plan for your practice.