We're regularly searching for interesting and insightful ways to get eyecare practices noticed by potential patients and customers. In general, thinking of what to write for your practice's blog, social media accounts, and emails can be daunting when content marketing isn't something you've been trained in. Luckily, that's specifically the type of marketing we do for our own eyecare products and services, so we're well-versed in the methods of soft selling.
However, we aren't the experts in healthcare or any kind of patient care. Only you as an eyecare provider can know what is the best recommendation for your patient base. Therefore, we want to help combine the two places of expertise and give you a few (free!) ideas for content pieces. Let us know in the comments if you end up expanding on any of these.
Free Marketing Content for Optometrists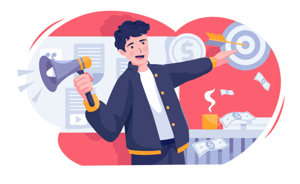 Email Workflows
This may be something your practice already does for regular patient appointment reminders 1 week, 1 day, and 1 hour before the appointment times. Think outside the box and create different email workflows or a series of emails that target different types of patients in your system. You can nurture your brand with patients who only visited once by sending them a series of emails that showcases why your location/hours are convenient or other selling points about your practice. For patients who have visited a few times, create emails that provide background information about your staff and the history of your practice to give you a brand voice. For all patients, send blog posts you've written about how to identify dry eyes, good candidates for contact lenses, and the importance of prescription sunglasses. These blogs would both promote your services and products while providing expert education about eye health. Even if you aren't able to set up workflows where you send your patient emails, you can usually at least schedule 3 emails ahead of time to send to all your patients.
Instagram Reels
If you're familiar with Instagram, you'll know that reels have taken over and are having a moment right now. Although videos are usually intimidating to film, reels don't have to be. You can create these short clip videos without even showing your face and you can refilm as much as you need. We recommend focusing on educational videos rather than trying to go viral. Create how-to content on finding frames that fit correctly, correct cleaning and storage of contact lenses, new frame offerings in your practice, or how often and in what kind of light you need to wear sunglasses (including in the snow). These topics may sound basic, but there is a lot of misinformation online that you want to help your patients avoid by spreading correct medical advice.
Blogging
As you know, you're currently reading a blog. We rarely post direct promotional materials that discuss the features, benefits, or discounts of our products on our blog. That's because we know that isn't the main reason that eyecare providers and optometry professionals subscribe to us. They want timely information on claim filing, patient preferences, eyewear trends, business management, and general advice they can't find from other sources. That's the same reason patients would check your blog. Create 300-500 word posts, the shorter the better, about different eye health tips that are relevant to your patients demographic, area, or the time of year. The opportunities are endless, but we urge you to write about things that you find interesting like "Top 5 Things I Remind Most Patients" or "4 Contact Lens Habits That will Horrify You". We call those listicles and while the title sounds like clickbait, the goal is to showcase your expert knowledge while spreading free healthcare information.