Purchasing new practice management and EHR software for your eyecare practice is a big decision that can effect many different areas of your practice. Because the change can have such big impacts on so many areas of your office it can be tricky managing the switch for your workflow and more importantly, your staff.
If your team isn't on board with the system switch, or they have
fears going into i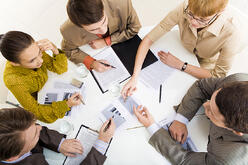 mplementation if could affect everyone and everything in your practice. Seeing success with change management isn't something that just happens - it requires a lot of forethought, staff buy in, a detailed plan of attack, thorough training, and open communication between your team and the optometry office software vendor.
Why You Need This Optometry Software
Mini Guide
No matter the system your practice is about to put in place, as a Manager you need to prepare your team. That's why we put together this handy Mini Guide to help you better manage your entire practice for the change.
This Mini Guide Will Cover:
Getting Staff Buy In
Plan of Attack for Implementation and Training
Going Live with Your Software
Download the Mini Guide to get your practice prepared for the change.