Every time you receive a to-go bag with a toothbrush, mini toothpaste, and floss at the dentist, do you wonder how the practice justifies purchasing items that have no return on investment? Similarly, will you bring in new patients by allowing free adjustments, cleaners, and cloths or just cost your practice money?
It's entirely possible that freebies can lead to an increase in sales through branding and messaging. Today, we want to explore whether branded and unbranded extra goodies can impact your patients and work well for your practice growth.
The Return on Investment of Freebies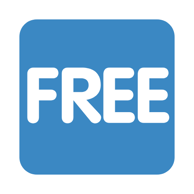 In order to stay profitable, we recommend that you limit the amount of freebies given to each patient. Also, the benefits of free adjustments and accessories should only be applied to patients who have purchased products from your dispensary.


Loyalty

Patients are more likely to return when you show them you're invested in their satisfaction, even when it costs you a bit of money in the form of free repairs or adjustments. Especially if they are from an older demographic, some patients even expect this sort of service is built into the cost of the frames in the first place. When your patients see how long a repair or adjustment takes, they'll realize how much value you're adding to their purchase without charing an extra fee. Remind them that online retailers don't do customizations or repairs most of the time, too.

Brand Recognition

When your patients use a pen, lens cloth, or sample contact lens case that has your practice's name on it, they're less likely to forget you. Although it can seem like a small and subtle way to get your name out there, your branded items can also be used as business cards to help spread word of mouth. Also, the cost of bulk ordering branded lens cloths can be justified if they lead to say 4 new exams.

Upsell

The patient has already returned to your practice on their own volition, so we recommend that your opticians attempt to discuss new or relevant products. Take the opportunity to show the patient their options for a second pair as back up or an occasional option. Even if the patient doesn't purchase at that time, the more familiar they are with your products and customer service, the less likely they are to choose a different dispensary in the future.

If you need more advice on sales techniques and scaling profits, read our ebook, "4 Weeks to Bigger Profits".