It's time for the rush of patients scheduling appointments to use up the money left in their FSA or HSA accounts. If you're not experiencing an influx of appointments, give your patients a gentle reminder that your optometry services can be reimbursed with a flexible spending account (FSA), health savings account (HSA), a health reimbursement arrangement (HRA).
In order to qualify for end-of-year benefits, patients simply have to have their exam and order their products in the 2020 calendar year. Then, they can pick the products up whenever they're ready, even if that's in 2021. Here are a few more tips to encourage your patients to book their exams and buy from your dispensary before the year is up.
Capitalizing on FSA and HSA Spending at the End of the Year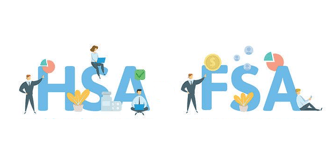 Schedule Your Eye Exam Now
Many patients may not have visited their eye doctor yet this year. The first message to send through your patient communications system could just be a regular reminder to use FSA and HSA accounts to pay for the annual exam. Dry eye disease treatments, punctal plugs, and other exams are also covered if you have patients who have needed to address their dry eye symptoms.
Purchase Products in Advance
If patients have money leftover that's running out and they've got a recent prescription that isn't likely to change soon, then there's no harm in making sure they have enough lenses for even over a year. However, the products available don't end there. Urge patients to stock up on prescription eye drops for dry eyes, contact lens solution, lens storage and cleaning supplies, and other accessories.
An Extra Pair of Glasses
For patients who have multiple homes or like to change up their style, having a few pairs of prescription everyday glasses can be useful. We've discussed blue-light blocking lenses or computer lenses, so maybe create a brochure for patients who work from home and have to look at the computer more than ever. Show them how computer lenses are a good investment to reduce fatigue and headaches in a different way to their regular prescription lenses. This is also a good time to discuss prescription sunglasses for patients who work or enjoy being outdoors a lot of the time--especially for those who play snow sports.