Millennials are slowly starting to make up a larger and larger chunk of your patient base. They are making more money and making more independent decisions, and ultimately influencing the success and growth of your optometric practice. If you have been ignoring this important market, you might want to re-think your marketing strategy moving into 2020.
Millennials are people ranging in age from about 19 to 35, are digitally savvy customers with unique interests and an annual buying power of over $2 million. As a millennial myself, I have an idea of what marketing strategies have and have not impacted my buying decisions in the past. Today, I want to share 4 strategies for targeting your millennial market in 2020.
4 Ways to Focus More Attention on Millennials in 2019
Offer a Custom Experience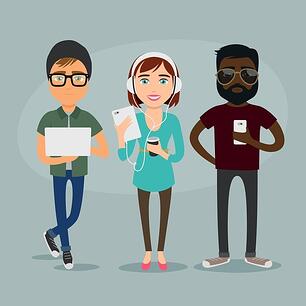 Many millennials want to be different and stand out from the crowd. When looking to purchase frames in your eyecare practice, many of them might be looking for frames that are as unique as they are. Many millennials are willing to spend more for higher quality or a unique differentiator in a product. You can still incorporate trendy styles being carried out by more unique or customizable brands. On top of carrying custom or unique frame lines you can create a custom patient experience as well.
A big competitor for your dispensary are online retail giants, like Warby Parker. But what online retailers struggle to provide patients is a custom and personal experience. Think of how you can make the in-person experience a memorable one.
Ask for Feedback
You probably already have a decent group of millennial patients in your practice. Take the time to ask them for their feedback and ideas for improvement. It will not only help make them feel valued and appreciated, but it will also help you tailor future experiences to grow your millennial market. You can chat with patients when they are in your practice, or create a simple follow up survey that you send out after a patient visit to learn more about things like how they found your practice and what they thought of the experience in the office.
Provide Loyalty Perks
Sometimes building loyal patients can be even more challenging than gaining new ones. One way to keep your patients of any age coming back for more is to make loyalty rewarding and fun. You could implement a loyalty program that tracks achievements like purchases or visits, or you could try a promotional contest with prizes. Either way, gamification is a unique way to have some fun with your patients while encouraging them to have more interactions with your practice. Once your patients reach certain milestones they will be given special deals, promotions, or exclusive access to new products or events.
Engage on Social Media
So many millennials look to social media to interact with peers and businesses. If your practice doesn't have a strong social media presence you could be missing out on valuable interactions with this group of patients. But really, it's more about just being present on social media. You need to build a loyal and engaged community.
User-generated content can be a highly successful tactic within your social channels. So what exactly is user-generated content? Having people within your community contribute info through the form of things like photos and content, or practice reviews. Having strong peer-to-peer content like this is a great way to promote your practice.
---
Want more insight? Our OD Handbook: Small Business, Big Profits includes marketing advice and more.
Editor's Note: This post was originally published in December 2016. It has been updated for relevance and richness of content in November 2019.