In most independent eyecare practices, your staff members are required to wear many hats. Someone in your practice, likely the OD or office manager, wears the hat of human resources manager.
The HR Manager is in charge of hiring, interviewing, monitoring time off, and overall staff productivity management, but it's likely whoever is in charge isn't necessarily an "expert" in the area. That's why we thought it would be great for someone in your practice to have access to a library of different online resources where they can go to get help and find answers to some of your eyecare practice's biggest HR needs.
6 Online Resources for Your Toughest HR Issues
The HR Blog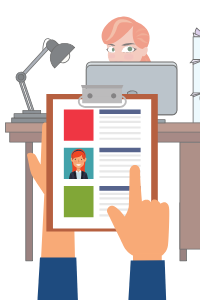 The Human Resources Blog is a career advice portal. It was founded in 2011 with a simple goal of providing short and crisp career tips with hand-picked contributors who write for the site. Let's look at a couple of articles that we love:
According to Evil HR Lady, all HR people are evil - it's in the job description. Or, at least that's the stereotype. In reality, there's more going on behind the scenes that most employees don't know, and this blog will demystify your HR department. Get started with these:
We think that this LinkedIn group can be a good resource for your practice's go-to HR person because you can actively participate in the conversation. Not only will you have access to great information, but you'll get access to a network of HR professionals that you can get in contact with and as your more pressing questions.
HRZone has a handful of contributors and also a plethora of content. Any HR topic that you're looking for can be found on the HRZone blog. A couple of our favorite articles that we think can help your practice are:
Chantal Bechervaise's passion and enthusiasm for everything HR, workplace, culture, engagement, social leadership, and social media is contagious. She has expertise working in private, non-profit, and public sectors, and she blogs about everything related to the world of work. A couple posts we love:
Here on the Uprise blog we've knocked out some HR related blog posts specifically for eyecare practices. We've covered things from HR documentation to job descriptions to interviewing tips. Take a look at a few of our most read posts:
We've even created a free HR document pack you can download, customize, and use in your eyecare practice. Download your copy below!
Editor's Note: This post was originally published on April 13th, 2016. It has been updated for relevance and richness of content on December 10th, 2018.