Your appointment schedule defines your day. In an optometric practice, having a full schedule means more money that you can use to invest in your practice. Unfortunately, there are times where your staff may hack your patient schedule by booking placeholder appointments and assigning the "no-show" status to them.
These bogus appointments may be scheduled to help your staff leave early or give them more time to catch up on their administrative duties. But, in the end, they're driving away legitimate patients, hurting your practice, and jeopardizing you and your staffs' income.
This post provides a few telltale signs that your staff may be sabotaging your patient scheduling with fake appointments.
Patient Scheduling Tips to Spot Phony Appointments
Repeating "No-show" Timeslots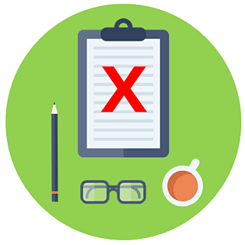 If your optometric practice is experiencing no-shows at the same time each week or every few weeks, it could be a sign that your staff is scheduling appointments with fake patients. If you are seeing common patterns with no-shows during certain time blocks, add an additional appointment slot to that time block to see if it fills up with another no-show. If this is a commonly missed time block, investigate if it's worth staying open.
Bizarre Phone Numbers
Nowadays, it's hard to identify a phony number. Most people no longer have landlines, and the area code for cell numbers may not have changed since the purchase of their first phone. However, if a phone number seems suspicious, or your practice doesn't typically deal with a lot of people who have relocated, try calling these numbers directly. If it's a new patient, then you're simply confirming the appointment. If the number is out of service, invalid, or the person doesn't live in the area, then it's a good sign that it was a bogus appointment.
Missing Contact Information
The ability to schedule appointments online makes it easy for patient's to book exams and it helps you collect more information about the patient upfront. If you notice that a patient only has one form of contact listed or is missing address information. Make an effort to reach out to them to collect that information, or double-book appointments to minimize the effect of the potential phony patient no-show.
---
You won't miss a thing using our patient portal. Check it out in this video.
Originally published in December 20176