Vision Expo West 2019 is here, so we know you're deep in preparation mode. If you're there for CE classes and checking out new technologies for your practice, you might feel overwhelmed with your options.
In order to make the most of your time at the show, so you can spend more time playing than working, you'll need to come to the show prepared to get the job done. That's where we can help.
5 Steps to Help You Use Your Time Wisely on the Tradeshow Floor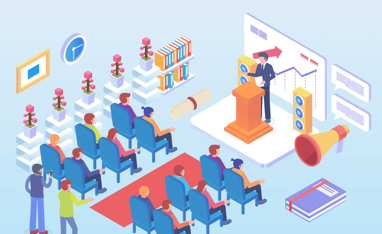 Determine Your Needs and Set Goals
Before you head to the show, take some time to determine what your practice needs are at the moment and what you hope to get out of the show. In our example today, we're going to talk about a practice that has determined a need for new practice management and EHR software, but these steps could be applied to a variety of practice needs. If your staff isn't attending the show with you, sit down with them beforehand and get their opinions on the needs of your practice and what they would be looking for in a new software.
Download The Buying Guide
Shopping at a tradeshow can be overwhelming, and you might even run out of time. Head into the show knowing what you need and which vendors you want to talk to. This Software Buying Guide will walk you through the steps to take so you're prepared to talk with different vendors at the show, and will help you narrow down your options before you get there.
Tip: Run through the exhibitor list beforehand so you know who will be there and where you can find them!
Ask the Right Questions
Knowing the right questions to ask software vendors will help you make good use of your time talking with exhibitors. It's easy to get wrapped up in a sales pitch and forget the questions you had wanted to ask, so write them down ahead of time so you make sure to get the answers from all of the vendors you talk to. It will help your evaluation process go more smoothly at the show.
Compare Costs
Cost plays such an important role when shopping for software systems. Every practice has a different set of needs and a different budget and there are options out there for every type of practice. But comparing the costs can be tricky when you consider all of the hidden costs that can add up on top of the initial license fee or monthly subscription.
Prepare for the Change
Once you've made the leap to new software, you'll need to start getting your practice and your staff prepared for the change. If your practice has been using the same system and processes for a while, a change like this could have a big impact on your staff's day-to-day routine.
Download Your Guide to Change Management
---
If you're going to be at Vision Expo West, we'd love to see you stop by the Uprise booth MS9035 for a demonstration.
Editor's Note: This post was originally published on June 4, 2016. It has been updated for relevance and richness of content on September 16, 2019.