Patients browsing your optical dispensary after their appointments are bound to be overwhelmed with visual options and strapped for time. This is where excellent product descriptions come in to save the day, creating a good customer experience before your optician steps in to help.
If you run a busy practice and want to convert patients into dispensary customers, you'll need to craft compelling, relevant, and buyer persona-specific descriptions for your products. Depending on the layout and design of your optical dispensary, you can write broad descriptions for different styles of frames, brands of frames, lifestyles, and use-cases. The possibilities are endless, so let us show you how you can start optimizing your frame descriptions today.
Boost Dispensary Sales by Improving Your Frame Descriptions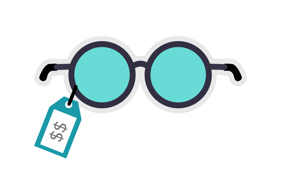 There are a few steps you need to take before beginning to write frame descriptions. You know you can't write individual descriptions for every frame in your dispensary, so start by grouping your products and always keep your consumer in mind.
Get organized.
Before writing descriptions, you have to establish how you're currently grouping your frames and if your existing method is working well for you. The organization of your frames should keep your main patient base in mind.
If your patients are mostly from one or two personas, organize your frames by those two personas. For example, if your practice is close to schools and residential communities, you can organize first by age and then activity. However, if your patients come from many different backgrounds and have a variety of needs, you might benefit from splitting out your frames based on gender first, then brand, and finally activity.
What are the customer needs?
When you're describing a group of frames, keep in mind why that potential customer is reading the description instead of talking to an optician. It's likely they're just browsing and not ready to commit, so focus on why the frame is unique and who it is ideal for. We've included a few examples below that aren't brand-specific.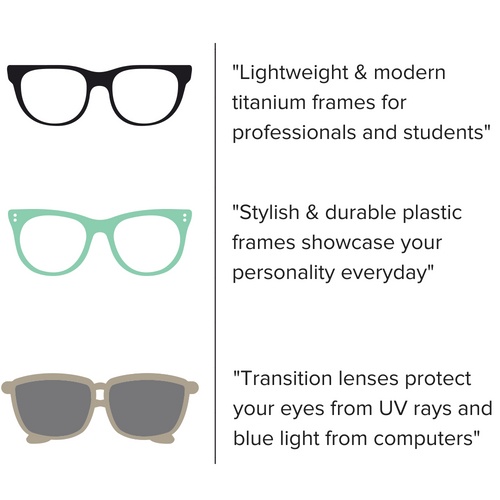 If your patients are brand-conscious, you can emphasize big name manufacturers in your descriptions. Once you've established why your patients purchase frames, you can create product content that shows them why they should purchase from your practice specifically.
Overall, your descriptions should be short and easy to scan for buzzwords such as "UV protection", "glare reduction", "24 hour wear", or "long-lasting". Although customers gravitate towards frames that align with their taste, they'll want to know the frames cater to their specific needs and lifestyle.
Finally, make sure you have space at the top of your frames arrays to place description placards or special signs. You'll want your descriptions to be visible and informative, but not overwhelming. You can even use stickers or pins to denote "staff favorites". Your customers should be able to browse your dispensary at their own pace the same way they can browse and read product descriptions online.
If you're in need of actionable marketing insights for your eyecare practice, subscribe to VisionWeb's blog and receive notifications when we post.
Originally Published September 2018