Does your practice have a Facebook page, Twitter page or blog? If the answer is yes, we hope that you've been active on your social media platforms because simply being on them isn't enough. What you need is a social media strategy.
It may be hard to conceptualize a social media strategy for an eyecare practice, and it might seem time consuming and intimidating, but we are here to tell you that it is absolutely essential! According to a recent study, 72% of consumers surveyed said that they rely on online information when choosing healthcare products and services. So the challenge is not only to allow patients to find you online but provide them with enough information to become your patients!
Start differentiating your practice by incorporating what your patients want to see in your social media strategy!
Social Media in Eyecare: 5 Things Your Patients Want to See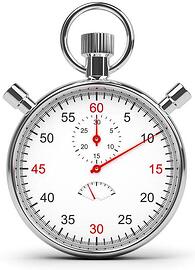 Consistency
Whether you are blogging, tweeting or posting on Facebook, consistency is always key! Being active on social media keeps you relevant and top of mind of your audience. Especially when it comes to blogging, the lack of consistency could result in the loss of your readers since they never know when you might get around to posting a new article.
To start, set a social media calendar and schedule blog posts, tweets, and Facebook posts so you can plan ahead and keep track of what you've posted. If fitting all of that in your schedule seems overwhelming, try delegating tasks to the staff at your practice. I'm sure that they'll be happy to compose a tweet or two about upcoming deals, what they've been working on, or share an interesting article. Management tools such as Hootsuite can also help schedule your tweets to go live at preset times and dates, so you won't have to worry about managing the account on days that you know you'll be swamped with patients.
Value
While consistent posts are good for your social media presence, content should be your top priority. You should aim to provide fresh content and value to your readers. This might require a brainstorming session or two. You can also utilize social media to make your practice more interactive. Some practices install applications to their Facebook page that allow readers to subscribe to their newsletter or do virtual check-ins. We've also covered some great ideas for content, feel free to revisit these topics.
Incentives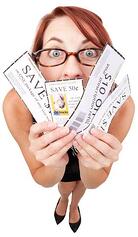 Everybody loves a great deal! 76% of people surveyed said that they follow brands on social networks to receive discounts or coupons. If you want to drive more traffic to your social media pages, consider offering exclusive deals. Ideas include providing a coupon code only for those who liked you page or maybe even hosting a contest. But make sure you check the rules and guidelines before you start. You don't want to run the risk of having your company page deleted by Facebook.
Incentives are a great way to encourage participation on your social media pages. They not only attract new patients, but retain existing ones.
Engagement
Social media has revolutionized the way we communicate. You are giving your patients the opportunity to have a conversation with you, so keep the conversations going! Respond to comments, questions, and feedback promptly and don't forget to manage your online reputation as well.
Don't limit the engagement to just your customers. Take advantage of everyone who is using social media in eyecare to build a network with other eyecare practices and get involved in local and national optical associations. If you own a blog, subscribe and comment on other eyecare blogs too!

Personality
You may be surprised, but receiving incentives is not the number one reason to why people follow brands on social network. 79% do so to learn more about the brand. Showing your company personality is just as important as sharing valuable content. Throw out the corporate speak when interacting on social media - save those for press releases. A simple rule of thumb is to write the way you talk. When writing a blog post, try being conversational, just like you would when writing to a friend. Emoticons are acceptable too. In fact, according to this Facebook cheat sheet, posts that contain ":D" receive a 138% higher interaction rate.
The ever-changing world of social media can get hectic and it's easy to get lost in the shuffle, even in a niche market like eyecare. But a tried and true method to standing out is to simply produce killer content. So get out there and start writing posts that we can all get excited about!
Follow us on Twitter for more social media advice. While you're there, tweet us and let us know what you think of this article!