In the eyecare industry, especially when you only see many of your patients once or twice a year, staying relevant and memorable is important to maintain your patient count, increase new patient acquisition, and assist with frame sales.
And, in order to stay top of mind, your practice needs to increase communication and visibility within your community. This is where a strong optical marketing strategy comes in. Continue reading to see our expert opinion on marketing your practice in 2020.
Stand Out from the Other Eyecare Practices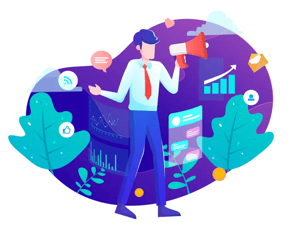 1. Branding
Consistent branding across all of your marketing assets eliminates confusion and helps patients associate logos, messaging, and color schemes with your practice. This branding checklist can help you implement consistent branding across all of your marketing activities, including:
Marketing materials (Brochures, Business Cards, Catalogs, etc.)
Online marketing
Social media
And more
2. Social Media
It is safe to assume that your patients are on at least one social media platform. Whether your patients use Twitter, Facebook, or Instagram, make sure you inform them about special promotions and your latest news by posting regularly on the platforms that they use.
In this post, we provide you with a guide to creating the best optical social media posts on multiple social media platforms.
3. Email Marketing
Staying in touch with your patients through email can be an effective way to let them know about special promotions, upcoming appointments, or special events. By utilizing these email marketing tips, you can start sending your patients effective and efficient emails.
Pro Tip: Using an email service solution is a great way to keep in touch with specific email lists through email campaigns. To help you keep in touch with specific email lists, we've listed 6 affordable email solutions for your optical marketing email campaigns.
4. Local Search
In many cases, your website provides potential patients with their first impression of your practice. But, if your prospects can't find your website and contact info with a quick search, then the odds of them scheduling an appointment with you are slim. When you search for an "eyecare provider near me" does your practice show up? Having a website that isn't optimized for local search and SEO can affect your patient acquisition numbers.
Here are some tips on how to help your practice in local search.
5. Graphic Design
The use of quality images is an effective way to support your marketing strategies and your brand. Fortunately, you don't always need a graphic designer or expensive software to create eye-catching images. If you want to tackle some of the design work yourself, we've listed a few cheap and free design resources to improve your eyecare practice marketing.
A strong optical marketing strategy is important for growing and maintaining your eyecare practice. Using some of these popular optical marketing resources for branding, social media, email marketing, local search, and graphic design, you can build a stronger marketing strategy that will help your practice maintain your current patient count, increase new patient acquisition, and assist with your practice's frame sales.
---
Want to stay up-to-date with all of our posts on optical marketing and the eyecare industry? Subscribe to the VisionWeb Blog.
Editor's Note: This post was originally published in August 2016. It has been updated for relevance and richness of content in October 2019.