Every business owner likes to treat their employees a nice party or gathering during the holidays. But, tight budgets can sometimes make it difficult to do as much as you would like.
Luckily, there are plenty of budget-friendly options out there to help you and your team get in the holiday spirit, all while having a little bit of fun. We'll provide a few ideas that you can customize to your staff's needs and interests here. Some of these can be converted to virtual or distanced events while necessary or booked in advance for 2021 fun.
Team Bonding Ideas During the Holiday Season in Your Eyecare Practice
Cook Off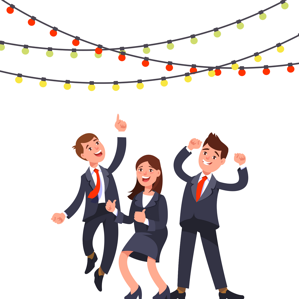 If you want to hold a team event in the office, it could be fun to shut down the practice for an afternoon and host a cook off. A couple of ideas could include a chilli cook off or a holiday cookie bake off. Find a way to get everyone to participate and hold a blind taste test and voting to select the winners. You could offer participation prizes and a big gift for the first place winner.
Volunteer
Volunteering as a team is a good bonding experience, helps generate brand awareness, and gives you content to share on your social channels. On top of that, volunteering during the holiday season will help your practice spread cheer to others in need no matter how you choose to volunteer. You could ask your team which organizations in town are the most important to them and close the office for a day or afternoon to make the volunteering trip easy for everyone.
Something Touristy
You know those things offered in your town or city that are things "only tourists do". There's probably a good chance a lot of people in your practice haven't done those traditional tourist activities that could end up being a lot of fun. Surprise your team with future tickets to a duck tour, segway tour, or something else that your city is known for.
Painting Class
In many cities there are businesses that offer "painting with a twist" where you and your team can sip on cocktails while you get lead through the process of painting a masterpiece. Even if you aren't artistic you can usually walk away from these events having a good time and learning a thing or two. It's an intimate enough setting that you and your team will be able to chat and enjoy each other's company throughout the night of painting. You can even make this a virtual event so everyone can stay safe if they choose to drink.
Scavenger Hunt
A scavenger hunt is not only a fun team activity, but will also help support teamwork, leadership, and bonding among your staff. There are a couple of apps that offer scavenger hunts for different cities. You'll get clues sent to your smart phone that lead you on a walking tour of the city. You can also develop your own scavenger hunt near the neighborhood of your practice.
Escape Room
Escape rooms have become increasingly popular over the last few years. It's another fun way to encourage teamwork and collaboration among your staff. You and your team will be placed in a room full of puzzles and clues, and you'll be given an hour to use the clues to find your way out of the room. These are an affordable and fun event away from the office that could make for a great holiday party.
---
For more tips on building and maintaining a strong team in your practice, subscribe to the blog.
Originally published in November 2017