As we approach the halfway mark of 2019, it's time to evaluate if your optometry practice is on track financially. Has your actual spending matched or exceeded your budget? Have you experienced any unexpected expenses?
Although reducing expenses is very important, we also think the first step is developing good money habits and understand which areas of your practice needs more investment.
Even if you have an accountant or consultant, it's a good idea to do quarterly financial reports to make sure everything is in order and see any trends. Today, we'll go over how to get yourself on track and make space for emergencies and expansion.

Get Your Practice Back On Track Financially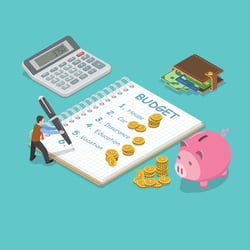 Review the Budget
First, review what budget you've allotted for yourself for the end of the year. This means running reports on inventory, procurement, and cost of goods sold. Then, compare those reports to your expected income and growth (sales projections, optical capture rate, marketing campaigns). This way, you can benchmark which areas you might be experiencing slower or faster growth. Also, reviewing the details of your finances can raise alert for internal theft or other money issues.
Automate Processes
If you aren't already running profit and loss or budget statements monthly, it's time to start. Review of Business provides a hypothetical profit and loss statement you might run here.
Using online accounting tools, such as QuickBooks, can be an inexpensive way to reduce the amount of time your staff spends analyzing as well as accurately forecasting growth. If you outsource your insurance claim management, your billing service might already provide financial forecasting reports for you, too.
Re-evaluate Your Goals
If you're spending far under your budget and not seeing the growth in patients or revenue you expected, it might be time to re-evaluate your goals. Take into account how much money you're investing into your practice and make sure your financial ratios are not unrealistic. Maybe you'd need to hire an associate OD or a new optician in order to meet your goals? Maybe you have to change your EHR/PM, offer a new product line in your dispensary, or renegotiate your vendor contracts? Consult your team to see which areas of your practice and business you might be overlooking.
Don't let your practice's profits slip. Read our 4-week crash course in boosting your revenue.