After the crazy holidays have come to an end, sometimes we get a little exhausted and put the New Year's resolutions on the back-burner. But if you're frame ordering in 2013, you might be able to use a few resolutions as well. There is always room for improvement, especially if you want to become a superstar eyecare practice! After all, you can't expect better results without changing anything, so set some goals for your practice. Below are just a few any eyecare practice can start with; enjoy!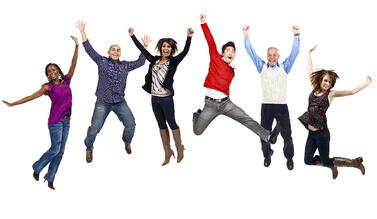 Shed the Extra Weight
It's the most popular New Year's Resolution – who doesn't want to shed that unnecessary weight off? It's 2013, and because paper never stops piling up, the paperless eyecare practice is the norm. And no, we're not saying to do everything your competition does, but in this situation the 'paperless-office decision' made by many eyecare practices is nothing but rational! It's no secret that going paperless by submitting optical orders online to all of your laboratories in one convenient location is the way to go, because increasing efficiency and improving productivity has the ability to really impact your eyecare practice's bottom line.
Socialize to Make Frame Ordering Fun
Social media has become so vital for any business, even social media for optometrists. Let your creative juices flow and make frame ordering FUN! Show the world who you are and what your practice is about. And if you are already utilizing social media, be sure you are using it the way you should be. Find out what kind frames your patients like by interacting with them on social platforms and every time new frames come in, show them off! You can even show your patients off wearing their new glasses; who knows - you may impress their friends enough to bring in a new visitor or two. Take a chance and get imaginative; you may just become an inspiration!
Spend Your Money Wisely
Integrating a practice management system into an eyecare practice can be both exciting and overwhelming at the same time. While many eyecare practices initially purchase a PMS to save time and become more efficient by performing all day-to-day operations in one location, many practices end up not getting the most out of their practice management system investment. Making a better effort to utilize all of the features of your practice management system this new year is definitely a wise decision to make after making such a large investment!
Take Care of Your Reputation
New, trendy frames aren't cheap and deciding on a pair to wear long-term isn't usually an easy choice. For many, frame ordering is a big decision! And a majority of time when people make big decisions, they look for advice from friends, family, and in most cases online sources as well. For many small businesses, word of mouth ranks to be the most important for business marketing. And although controlling friends and family members advice is impossible, controlling your online reputation is, and can become an advantage for your practice if, and only if, you take care of it! Managing your online reputation can get a little tricky sometimes, but don't worry we're always here to help. Check out these posts!
Be Brave and Take Chances
Superstars are always brave and are never afraid to take chances! Don't be the grandpa that destroys eyecare practice efficiency. Sure, having everything online can feel a bit different, but there are always resources out there to ease you into the unknown so don't be afraid of technological changes. Go paperless in stages if necessary: start with a PMS then convert to electronic medical records, whatever works best for your practice! Whatever your pace, the result will be increased revenues, lower expenses, and 'happy frame ordering campers' – and that's what we all love to see!
We hope these resolutions can help your practice become the best it can be in 2013. We'll be covering anything and everything eyecare related throughout the year, so stay in touch and let us know what you'd like to hear!