If you're new to The Financial Guide series, we noticed that business management and finance aren't usually courses included in optometry school. So, we wanted to help fill the knowledge gap by providing resources that can guide eyecare practice finances without hiring a financial advisor. With the unprecedented events of 2020 so far, lost revenue is on the mind of many practice owners.
So, you've already created your variance reports and determined how behind you might be in revenue in relation to July of 2019. Now, we want you to create an action plan for recovering from the depression in revenue with these few tips.
3 Ways to Recover After a Financial Setback in Optometry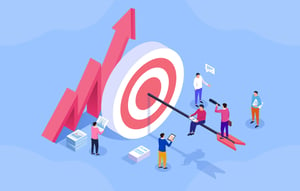 Telemedicine
We've discussed how adapting to include telemedicine right after practices were mandated to close helped generate some revenue and provide care to those with emergencies, co-morbidities, or previously scheduled follow-ups. Accepting telemedicine appointments can reduce the number of patients physically in your office, allow ODs to see more patients in a day, and allow you to expand your local reach.
Not to mention, if there is another mandate to close your practice, you'll be able to see patients if you've already established a system for patient intake, billing, and adopted a telehealth-capable EHR into your workflow.
Ecommerce
For a patient base who is used to shopping online, adding your most popular products to an ecommerce platform could be beneficial. Not only does this keep your opticians safe, but it allows you to compete with other digital retailers who were already successful in the market. If you include your frames, sunglasses, dry eye drops, and even contact lenses for purchase on your practice website, you don't have to rely as much on in-person sales. Make sure that your patients are willing to purchase online and plan the shopping integration would fit into your workflow beforehand.
Second Pair Sales
More patients are working from home and finding themselves staring at a screen more than they were before. We recommend you create patient personas for those who would benefit from a second pair of frames, Computer Vision Syndrome assessments, computer glasses, or prescription sunglasses for essential construction workers. Then, you can have a script ready for opticians when they encounter these patients or even set up automated emails reminding them of what you have available in your dispensary after an exam. Include a short video offering alternative options to just the traditional daily lenses in your patient education.