Most of us check a social media account, or a few, pretty much daily. It's a good source of personal information, connection to loved ones, and even news. However, it's tough to figure out your social media plan as a small business. How frequently should you post? Should you pay for promotions? What content should you share?
We're going to answer some of these questions as they relate to patients and customers today, not 10 years ago. Social media content is one that changes relevance almost weekly, so we recommend staying on top of trending topics and checking in every day.
Thinking Outside the Social Media Algorithm as an OD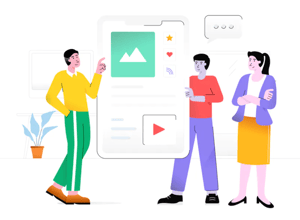 Paid Social
Paid social media is a method of displaying advertisements or sponsored marketing messages on popular social media platforms, and targeting a specific sub-audience. Pay-per-click advertising, branded or influencer-generated content, and display ads are all examples of paid social media. (Source)
Using paid social ads on Facebook or Instagram can feel like a risk if you aren't sure where to start. We will put money behind (or "boost") posts when it's something timely, like a discount or event, or something rare like a practice move or new medical device. Once you've tried a few different audience types and messaging, you'll get a better idea of how to invest in regularly scheduled paid posts.
You might even want to find social media influencers in your local area who could become patients. We recommend messaging book or video game reviewers on Youtube and Instagram because they could help sell reading glasses or blue light lenses. You can give them gratuitous products to review or pay them to mention your practice in an Instagram post, just research their audience and make sure your brand voices align.
Automate Your Posts
If you have Hootsuite or a similar social media management platform, you can schedule posts in advance. We highly encourage that you utilize these platforms so that you don't have to rely on different team members to take time out of their day to post on your accounts. Granted, you'll still need to set aside time to respond to messages or comments, like/share other practice's posts, and manage the back end of everything. However, these platforms are also useful for analyzing the performance and interactions with your posts over time to see when you have peaks and troughs. They can also keep your paid social campaigns on budget.
Always Look for Improvements
No marketing campaigns can stay relevant and effective for long. If you've been posting the same types of content for years, you're already missing out on connecting with new patients. We recommend researching what your competitors are doing on their social accounts as well as following Twitter and TikTok trends. Attend webinars provided by reputable sources in the industry, like this one presented by Dr. Darryl Glover on Review of Optometric Business. Consuming and participating on social media platforms is the best way to promote your practice to patients who are avidly on these platforms. Finally, our partners at EyeCarePro developed this handy quiz to see where you have gaps in your social media and general marketing campaigns.
---
Gain the most accurate insight and social media ideas by actually surveying your patients for them. We've created a free kit of surveys for you.