You may have spotted the Google Glasses at New York Fashion Week, but other than being good for making a fashion statement, they are here to revolutionize the eyewear industry through augmented reality. The ladies at Optical Vision Site are here to give their take on the future of augmented reality eyewear, and introduce a few cool technology glasses you could be seen wearing in a couple of years!
Eyewear Of The Future: Augmented Reality
We have been blogging about augmented reality eyewear for 4 years! If you haven't heard of the Google Glass Project which is set to go public in 2013, there are other alternatives to augmented reality eyewear. Check out some of these technology glasses, which just might give Google a run for their money.
Virtual Screen Video Glasses
Vuzix Star 1200 XL- Video eyewear specialists, Vuzix, have revealed a brand new model of augmented reality eyewear, the STAR 1200XL. These bad boys are looking very futuristic, and we can't wait to try them out and pretend we're in TRON or something.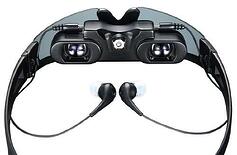 Source: trendhunter.com via Optical on Pinterest and blog.gadgethelpline.com via Optical on Pinterest
Microsoft Glasses
Microsoft is working on a device that delivers information about live events to a person wearing a head-mounted display. One of the drawings included in Microsoft's patent application shows the device could come in the form of eyeglasses.
Source: latimes.com via Optical on Pinterest
Apple's Eyewear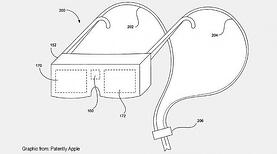 These actually predate Google's in terms of granted patents (dating all the way back to 2009), and while this product started out as a little more than "movie glasses" that were merely meant to display video content from an iPod (not so much a HUD interface like Glass), this eyewear has slowly evolved into something more than simple video glasses. In a patent application filed recently, Apple's vision for their "video glasses" has taken a sharp turn down Google street.
Source: phandroid.com via Optical on Pinterest
iPhone Theater - (Not really augment reality but still fun to include!) The iPhone Theater may look like a retro virtual reality device, but it actually offers a mini movie watching experience—which, let's face it, is very similar to virtual reality.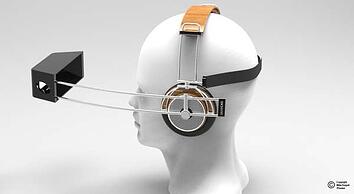 TTP Augmented Reality Glasses (Prototype)
Developed as a prototype by TTP (The Technology Partnership), a technology development company, the glasses incorporate a tiny projector in one arm of the spectacles. The picture is then reflected from the side into the center of the lenses, which are etched with a reflective pattern that then beams the image into the eye.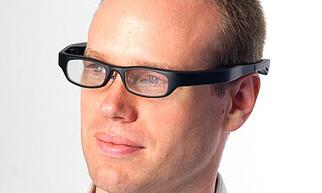 Source: guardian.co.uk via Optical on Pinterest
Lumus OE-31
Lumus transparent wearable AR display and the company revealed a new optical engine at the Mobile World Congress. The Lumus OE-31 see-through wearable display can be integrated in regular glasses. As you can see, the eyewear in the picture comes with an embedded MP3 player; the OE-31 is on its left side.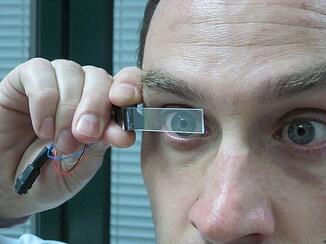 Source: mobilemag.com via Optical on Pinterest
Olympus Wearable Eyewear Technology
Olympus is building the MEG4.o wearable display, a Bluetooth device that will communicate via smartphone, having its own built-in acceleration sensor, interface, and maybe GPS features.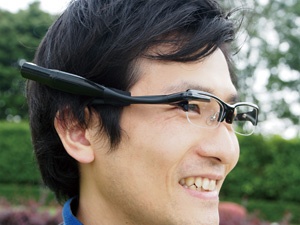 Source: opticalvisionresources.com via Optical on Pinterest
Sony Wearable Communication Eyeglasses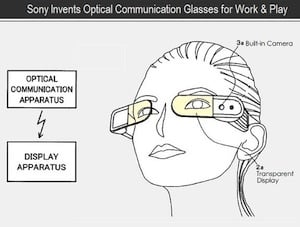 Source: opticalvisionresources.com via Optical on Pinterest
Like the Optical Vision Site as much as we do? Read more on their site!