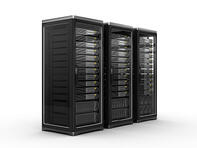 Many eyecare practices today are using client-server practice management and EHR software to run their practice. And with any optical software there are high security demands that must be met in order to keep your patient's data secure.
Whether you're already using a client-server software or if you're looking to purchase a new system for your practice, there are some things to keep in mind when it comes to securing data in your office. You'll have the responsibility of maintaining and securing a server in your office - do you have the IT knowledge to keep it safe?
Keeping Client-Server Optical Software Secure in Your Office
Physically Secure Your Practice
Where do you keep the server in your practice? Is it behind locked doors with limited access? While this may seem like an extra cautious step in the process of keeping your server secure, it's a good place to start. The chances are probably pretty slim that someone will intentionally take data from your servers, but it's not a bad idea to monitor access to the server room, because if anything were to happen it's still your responsibility. Are you able to monitor the temperature in your server room to avoid overheating? And do you have a back-up server at another location if something were to happen to the one in your practice? These are all things you'll need to consider.
Anti-Virus Protection
Anti-virus software is the stuff that monitors your computer for viruses in email attachments and Internet downloads. No matter what type of solution you're using in your practice, whether it's client-server or cloud-based, anti-virus software is a good idea. If you have installed anti-virus software in the past on your computers, it's just as important to keep it up to date. New viruses and malware pop up all of the time, which means the software protecting you from it needs to be updated frequently or it won't be giving you the protection that your data needs.
Don't Forget a Firewall
Firewalls protect your network from outsiders and helps prevent unauthorized access to your data. This type of protection has the ability to send you notifications of any suspicious activity that might be happening on your network. This is something that you should be able to install yourself, at a low cost, and customize to fit your needs.
Encrypt Your Data
Data encryption codes your data so that only authorized parties are able to read and understand it. HIPAA security requires that you assess the risk of unauthorized access to uncrypted data. So that doesn't mean that you have to encrypt your data, but it is going to help you reduce your risks. Data encryption will help protect things like billing information, emails sent from your practice, and patient health information. Doing this yourself could be tricky without much technical knowledge.
Consider an IT Consultant
If everything that we've talked about so far about securing your server and data sounds confusing, you're probably going to have to hire an IT consultant to implement and manage these things for you. If you decide that hiring an IT consultant is the right investment for keeping your data secure you should research before choosing a consultant. Ask if they have experience with managing servers for healthcare facilities, and also check into their customer reviews to see how satisfied others have been with their service. You're probably going to be investing a good amount of money into this, so make sure to make the right choice!
If all of this sounds a little overwhelming, you do have other options. With cloud-based practice management and EHR systems you don't have to worry about securing and maintaining a server in your practice. You vendor hosts and manages the server and software for you so that you can spend less time worrying about IT hassles, and spend more time with your patients.