Every practice reaches a point where they need to upgrade their space, software, or optometry team. Usually, this is a good sign that your practice is growing and expanding. However, any big change can be daunting, especially for new eyecare practice owners.
Deciding whether hiring a new employee is the best decision for your practice can be tough if you don't have someone to consult. That's why we compiled this directory of information to help you evaluate your practice's need for a new staff member, prepare the necessary materials and tools, and make the best decisions.
We hope the following blog posts answer any questions and concerns or address any hesitations you might have when entering into the recruiting and hiring world.
Everything You Need to Know about Recruiting for Your Team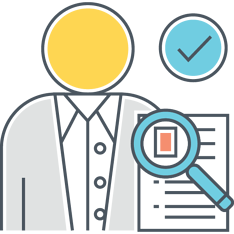 We've split up our knowledge base into what you need to ask yourself before deciding you need a new employee, everything you need to prepare before posting the job, and how to evaluate your candidates. Hopefully we've covered it all, but feel free to leave content requests in the comments. We'd be happy to research the hiring process further.
---
For more tips on managing and training your team, read our ebook on Expert Staff Management in Eyecare.