Failure in your optometry practice could encompass a multitude of events. Perhaps a marketing or advertising campaign you executed didn't bring in the patients or revenue you had hoped? Maybe you hired someone who ended up being the wrong fit, tried to host an event but couldn't pull it off logistically, or even failed at migrating to new software.
No matter what shape it comes in, usually your failure is shared among your staff. This is why we see a failed attempt as an opportunity to keep your staff growing towards the same goals and learning from your collective mistakes along the way.
See how we spin a not-so-great situation into a turning point for growth or success in your optical practice.
How to Learn from Failure in Your Eyecare Practice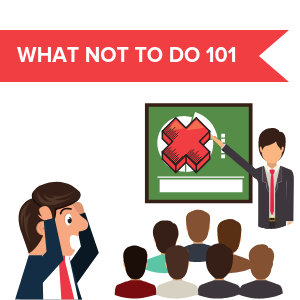 Review the Facts

Firstly, everyone fails, especially in the early stages of implementation, starting a new business, or fostering change within the practice. Therefore, it's good to start off with a review of what happened that led to the project or endeavor being deemed a failure.

You can gather information from your staff in one-on-one reviews discussing what they contributed, what they think worked well, what didn't work well, and any ideas they have for improvement. Although this is something that should be done after every large project, usually practices don't have the time. However, it's worth taking a pause to dissect what went wrong when a project has lost you money or time. This way, there's a smaller chance you'll repeat that mistake. It's also important to emphasize that you're not looking for someone to blame, you're simply trying to learn.

Redefine SMART Goals

Take this time to clear the air with your staff members. It's possible they don't connect with their individual goals, the practice goals, or the campaigns you have planned for the year ahead. Regroup and redefine all goals to be Specific, Meaningful, Achievable, Relevant, and Time-Bound (SMART) if they aren't already. The one-on-one meetings you have with your staff are a good time to air out any issues they might have with the existing workflow or plans in place.

You might not be surprised to find that some staff members feel more comfortable expressing their suggestions and criticisms in a private setting. Seeing as most optical practices don't have an HR department, it's a good idea to write down notes from these meetings. File them away and keep them confidential, but refer to them when it comes time to decide promotions and changes on your team. The way people react after failure speaks volumes for their resilience, motivation, and passion for your business or the eyecare industry.

Look Forward

Once you have a clear understanding of the changes you'd make if you had to do the project over again, have a group meeting to discuss the next steps and strategy. The best way to overcome the sadness and hesitation that you feel after you've failed is to brainstorm fresh ideas for better avenues.

Of course, any new plan of action should be aligned with the practice's overall goals and differ from the project that didn't work. For example, if your practice is looking to expand its patient base and Google Ads didn't work specifically because you weren't sure how to launch a Google Ad campaign, maybe you should hire a freelance Paid Search consultant to run a short, informed campaign that will bring new visitors to your website. Sometimes with consultants or freelancers, you can tier your payments based on the success of the results. Your team will show enthusiasm for projects that they have a role in planning, too.

We hope this has been helpful if you've recently gone through a tough change or experienced undesirable outcome.

For more tips on making tough business decisions, check our tips from America's top ODs.