If you've recently purchased new optometry office software, or even if you're just in the market, an important step in the process is understanding your staff's computer proficiency. Some of your staff members might require more time and training than others, and it will make your life easier if you have an idea where each of your team members stack up.
There are quite a few different technology options out there today when it comes to practice management and EHR software, so understanding your staff's opinions and needs when it comes to technology is going to be increasingly important. If you've already purchased your new software and are in the implementation stage, it's also important to do an assessment to understand your options for training on the new system.
Evaluating Your Staff for a Smooth Transition to Optometry Office Software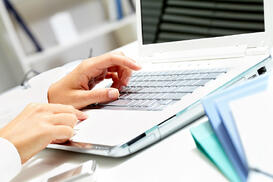 Are your staff members afraid of new technology or do they embrace it? EHR systems can be a major introduction of technology, which is why understanding everyone's level of computer confidence is important. Picking out which of your staff members th
at have the most technology knowledge is going to be important so that your less knowledgeable staff members have someone to turn to and ask questions!
If you're switching from and old practice management system to a new one, your staff might also be stuck with some pretty old habits that could be hard to break. How adaptable will they be to change and using a different platform? Can they critically think about how to interact with a new system? Some of your staff might need a refresher course on their basic computer skills to get them prepared for the change.
Make sure that your staff if comfortable and prepared for the new change in software. It's natural to fear change, and the last thing that you want is frustrated or worried staff members if they're afraid they won't be able to keep up with the changes. That's why we put together a quick worksheet for you and each of your staff members to complete to help give a better understanding of what everyone is comfortable with. It will help you evaluate different levels of basic computer, email, and Internet skills to help determine where everyone might need extra assistance. Take a look at the work sheet below.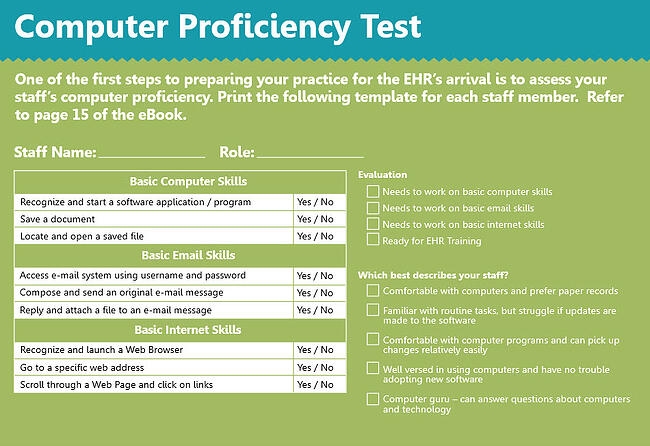 If you're looking for even more help when it comes to change management and adjusting to new software in your eyecare practice, check out our latest eBook, The Ultimate Guide to Change Management!