Just like in any business, optical practices have to go through and manage any changes that are thrown their way. And it doesn't take a lot for changes to not go the way you expected them to. No matter the type of change whether it be a staff change or workflow change, there are several hurdles that must be overcome that can make change difficult and confusing for many small businesses.
With any change in your practice there are steps and tips you can follow to help make it more of a success. Luckily, you aren't the first organization to deal with change, so there is a lot of information out there that you can learn from. In some cases, you may have invested a lot of money and expect the ROI to be speedy, but this can't be done if the change isn't managed correctly. With help from an article by DeAnne Aguirre, an expert in organizational change management, we are going to explore a few common mistakes that many businesses make, and why some change management fails.
So first, let's take a look at a few numbers: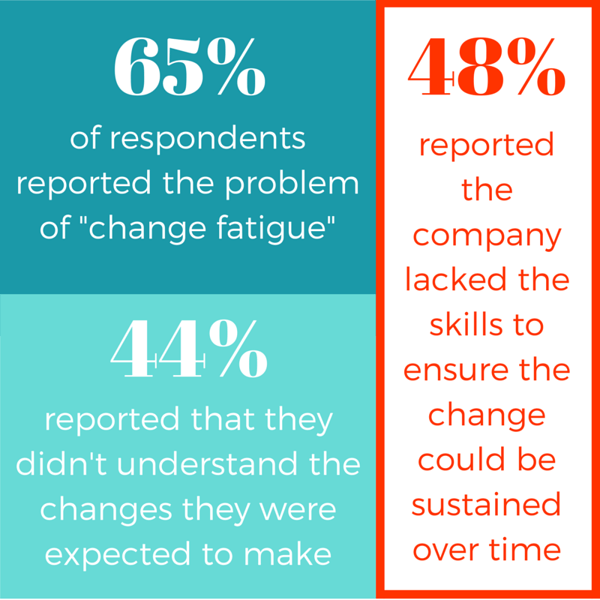 Optometry Office Software:
How to Avoid Pitfalls in Change Management
It's against human nature to react favorably to change because it takes people out of their comfort zone. So, a good first step that any OD or business leader can take is to definitively lead their buisness culture. Lou Gerster, who as chief executive of IBM led one of the most successful business transformations in history, stated that one of the most important lessons he learned from undergoing and leading IBM's change was that, "culture is everything." In the Katzenbach Center survey, 84% of respondents said that the organization's culture was critical to the success of change management, and 64% saw it as more critical than strategy or operating model. That doesn't mean you have to go out and change your practice's culture. Instead draw energy and focus on what already exists in your office.
You cannot over-communicate when you are asking for changes in your practice. Communicate early, and often, about what is expected giving your team the right amount of time to get on board with the change, ask questions, and provide input.
Don't make the mistake of only focusing on the long term. Big changes don't come quick and easy. Create a change management plan that breaks down the big picture into smaller, short-term goals, and celebrate short-term successes to help keep your staff motivated. A good change management plan will include things like structure, reward systems, ways of operating, training, and timelines. Focusing on these things in the short-term will help create positive feelings of accomplishment within your practice.
Even after the change is completed, it is smart to consistently re-evaluate the change efforts to determine any other areas that can be improved to help increase the efficiency in your practice. If you're thinking about implementing new optometry office software in your practice, check out our eBook on effective change management!